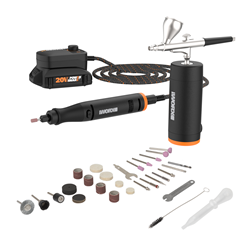 Since the tools, themselves, don't contain batteries, they are lighter weight, better balanced, leaner and more compact. The portable power hub also eliminates the need to be near an electrical outlet.
CHARLOTTE, N.C. (PRWEB) February 24, 2021
The WORX® 20V MakerX™ Rotary Tool and Airbrush Combo Kit brings a whole new, innovative approach to creative crafting tool design, precision handling and portability. Besides a compact rotary tool and airbrush, the kit includes a MakerX Hub, 20V Power Share battery, 45 accessories with case, charger and storage bag.
The rotary tool and airbrush crafter kit is part of the WORX MakerX system, which is centered around a MakerX Hub. Each compact tool in the system connects to the portable hub via a 4-ft. power cord. The hub is powered by a 20V, 1.5 Ah, Max Lithium, Power Share battery.
Since the tools, themselves, don't contain batteries, they are lighter weight, better balanced, leaner and more compact than other models. Micro-ergonomic grips make the tools easier to handle and more comfortable, especially during extended use periods.
The portable hub also eliminates the need to be near an electrical outlet. Just pick up the kit and carry it to any work station or project location, indoors or out. The hub has an on/off switch and a variable-speed dial, from 5,000 to 35,000 rpm, depending on the tool that's connected. The hub with a 20V, 1.5 Ah battery weighs 1.1 lbs.
The MakerX Rotary Tool's applications encompass projects that call for cutting, drilling, detail sanding, polishing, engraving and etching. Examples include crafting, homeimprovement/repair, woodworking, home/holiday decor, sculpting, robotics, model-making, miniatures, dioramas, metalworking, jewelry making, and school/kids projects.
The rotary tool features a brushless motor for long life and smooth operation. Brushless motors run cooler and with less friction and vibration than conventional brushed motors.
The versatile rotary tool weighs only 0.29 lbs. It also is 20 percent slimmer than competing models and has a narrow pencil-like grip for handling projects with precision and control.
MakerX Rotary Tool accessories are not proprietary. The tool's included 1/8 in. collet accepts other major brand accessories with 1/8 in. shanks, which are widely available at hardware stores and home centers. Other collet sizes, including 3/32, 1/16 and 1/32, also fit the tool.
The MakerX Air Brush is the only 20V airbrush on the market today. It's ideal for light duty and intricate jobs, such as painting models, personalizing guitars and skate boards, crafts, murals, signage, cosmetics, and more. It's also handy for removing dust from woodworking projects prior to painting or staining.
The compact and highly maneuverable airbrush weighs only 0.62 lbs. It features a dual-function trigger control that separates air flow and paint volume. This allows the user to go from a wide spray pattern to a fine line, or vice versa, in a single stroke. It also helps avoid initial splatter by introducing paint gradually.
Powered by the WORX 20V 1.5 Ah Max Lithium battery, the tool's diaphragm pump generates 14 to18 psi air pressure and has a run-time up to 3 hours. Its 0.04 mm nozzle provides a good balance between fine detail and ample width of coverage.
The airbrush accepts a variety of water- based and acrylic paints, which are readily available at art supply and arts-and-crafts stores.
The MakerX, 20V, Max Lithium battery is compatible with more than 35 other WORX DIY and lawn and garden tools through the company's Power Share platform.
The WORX MakerX Rotary Tool and Air Brush Combo Kit (WX992L, $149.99) is available at worx.com and Amazon. It is covered by the WORX three-year, limited warranty.
Reach out to WORX social media links by visiting: Facebook: https://www.facebook.com/worxus?ref=hl; Twitter: https://twitter.com/WORXTools; Pinterest: http://pinterest.com/worxtools and Instagram: @WORXTools