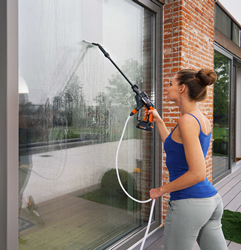 Hydroshot cleaning kits include accessories for easy clean-ups around the house, vehicles or boats.
CHARLOTTE, N.C. (PRWEB) July 28, 2020
The new WORX® 20V Power Share Portable Vacuum and WORX Hydroshot Cleaning Kits for vehicles, boats and homes are fast and efficient solutions to summer clean-ups. These lightweight, cordless tools make short work of spills, messes, dirt and grime in the car, truck, RV, boat, home and patio.
The portable vacuum weighs only 3 lbs. (with battery) and is constructed of rugged, nylon resin. In the shape of a small box, the vac has a 4-ft., flexible hose and built-in handle for easy transport. A crevice tool is provided for fitting into narrow spaces, such as the gap between a car seat and console or between sofa cushions. A brush accessory acts as a powered duster, eliminating small dirt particles, grit and lint.
The cordless vac doesn't need power outlets or awkward extension cords. Its 180W motor is powered by a 20V, 2.0 Ah, Max Lithium battery with up to 10 minutes of high-speed run-time and 25 minutes at low speed.
The 20V portable vac is designed for dry pickups only. A washable HEPA filter helps remove allergens, dander, pet hair and other small particles. The vac's 6 oz. debris container snaps open for easy emptying at the push of a button.
Besides vehicle detailing, the portable vac is handy for vacuuming window sills and tracks, as well as dusting fan blades and venetian blinds. It's handy for quick pick-ups of dry spills in the kitchen and other spot-cleaning chores. It also can be used for cleaning computer keyboards and dusting motherboards when inserting memory, replacing hard drives or general maintenance.
The WORX 20V Power Share Portable Vacuum includes one 20V, 2.0 Ah Max Lithium battery, charger, crevice tool and brush accessories, accessory adapter and HEPA filter and cartridge. The 20V battery is compatible with more than 50 other WORX DIY and lawn and garden tools. The WORX 20V Power Share Portable Vacuum (WX030L, $99.99) is available at worx.com. It's covered by the WORX three-year limited warranty.
More serious summer messes can be cleaned quickly and thoroughly with the Hydroshot Household Cleaning Kit and Hydroshot Automotive & Boat Cleaning Kit. Both cleaning kits include accessories for five models of the WORX Power Share Hydroshot Portable Power Cleaner (WG625, WG629, WG630, WG640 and WG644 Series).
Depending on the model, Hydroshot utilizes a single or dual, 20V, Power Share batteries to drive a built-in pump that delivers pressurized water from five to seven times greater than a standard garden hose with nozzle. Its multi-head nozzle adjusts spray patterns from 0º, 15º, 25º 40º or shower. The versatile power cleaner attaches to a standard garden hose or can draw water through a 20 ft., accessory hose (included) from fresh water lakes, rivers, or water buckets. An adjustable float on the accessory hose acts as a bobber to keep the intake from reaching sandy or muddy lake or river bottoms.
The Hydroshot Household Cleaning Kit includes accessories for easy clean-ups around the home. Each accessory has a quick-snap connection for attachment to Hydroshot in place of its multi-head nozzle. Soap can be effortlessly added to cleaning projects, such as windows and other surfaces, by using the 13.5 oz. soap dispenser. A 7" multi-purpose cleaning brush provides a steady, low-pressure water flow while scrubbing. Cleaning windows is nearly effortless with the 12" window squeegee with spaying capabilities for penetrating dust and debris, as well as quick rinsing. The squeegee also comes with interchangeable blades.
The Hydroshot Automotive & Boat Cleaning Kit includes a rotary cleaning brush. Its water-powered, soft-bristle brush with spinning head is great for cleaning automotive rims and wheels, as well as other sensitive surfaces and tight areas. Also provided in the kit are a 13.5 oz soap dispenser and an adjustable automotive power scrubber (soft bristles) for gentle cleaning of vehicles and boats. The scrubber's head has dual articulating points for easy adjustment.
A Hydroshot Adjustable Outdoor Power Scrubber (Hard Bristles) is sold separately and features hard bristles for vigorous cleaning of outdoor furniture, siding and other soiled surfaces. Dual articulating points allow easy adjustment of the scrubber head.
The Hydroshot Household Cleaning Kit (WA4070, $49.99), Hydroshot Automotive & Boat Cleaning Kit (WA4071, $49.99) and Hydroshot Adjustable Outdoor Power Scrubber (Hard Bristles) (WA1821, $34.99) are available at http://www.worx.com and online at Home Depot and Amazon.
Reach out to WORX social media links by visiting: Facebook: https://www.facebook.com/worxus?ref=hl; Twitter: https://twitter.com/WORXTools; Pinterest: http://pinterest.com/worxtools and Instagram: @WORXTools