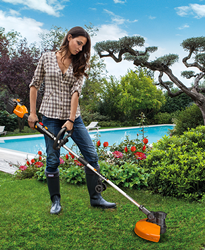 Command Feed is an electronic device that allows users of the WORX 40V Trimmer/Edger to instantly advance 1/4 in. of line at the touch of a button.
CHARLOTTE, N.C. (PRWEB) May 29, 2019
The new WORX® 40V Power Share Trimmer/Edger comes loaded with two, 20V, 2.0 Ah batteries that team up to deliver 40 volts of cutting power and performance to zip through tall grass with ease. The lightweight and versatile, cordless yard machine also features exclusive Command Feed™ line advance, variable speed control and pushbutton conversion from trimming to wheeled edging.
"Even the healthiest, evenly mowed lawns lack curb appeal if their edges are ragged along drives and walkways," said Pete Denley, WORX Senior Product Manager. "That's why the versatile WORX 40V Trimmer/Edger is designed to function efficiently as a precision edger, as well as a powerful grass trimmer."
What's more, the 40V Trimmer/Edger's two 20V, MAX Lithium batteries are compatible with more than 25 other WORX yard and DIY tools. This battery-sharing capability results in significant savings and convenience.
One of the most vexing issues encountered with many trimmers is replenishing line that's cut or shredded by striking hard surfaces, such as rock, brick, concrete, asphalt or fence lines. In response, WORX engineers have developed Command Feed, an electronic device that allows the user to instantly feed 1/4 in. of line at the touch of a button. There's no more need for bump feeding or waiting for line to advance before cutting.
Switching from trimming to wheeled edging is easy. The operator simply presses an orange button on the shaft and rotates the head. A detachable, in-line wheel is used to define a keen edge or the set can be stored on the trimmer's shaft or removed entirely.
Variable speed is another advantage of the WORX 40V Trimmer/Edger. Similar to a gas throttle, a handy, variable-speed control enables the operator to conserve battery run-time by varying the trimmer/edger's speed, according to the power requirement of each task.
The cordless trimmer/edger has a 13 in. cutting swath and operates at a no-load speed of 7500 rpm. It accepts a WORX snap-in spool with 20 ft. of professional, .080 diameter spiral line. An adjustable metal spacer guard helps keep line from cutting into sensitive areas, such as flower beds, vegetable gardens, tree trunks and lawn ornaments.
The 40V trimmer/edger's shaft ratchets from 0 to 90°. This feature facilitates trimming in hard-to-reach areas such as beneath decks, shrubs and other obstructed areas
Balanced, lightweight and highly maneuverable, the 8.6 lb. trimmer/edger has an adjustable front-assist handle with a smooth grip for comfort and control.
The WORX 40V Power Share Trimmer/Edger (WG184, $149.99) includes two 20V, 2.0 Ah, MAX Lithium batteries with fuel gauge; a 60-minute dual-port charger; and a 20-ft. spool of line. The trimmer/edger is covered by the WORX three-year limited warranty. It's available at http://www.worx.com and Amazon.
Reach out to WORX social media links, including Facebook: https://www.facebook.com/worxus?ref=hl; Twitter: https://twitter.com/WORXTools; Pinterest: http://pinterest.com/worxtools and Instagram: @WORXTools