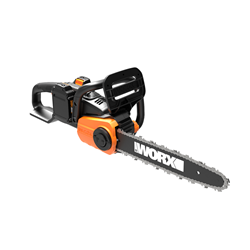 The WORX 40V, 14 in. Chainsaw's brushless motor increases battery run time and is maintenance-free.
CHARLOTTE, N.C. (PRWEB) October 28, 2019
Year-round yard clean-up – such as disposing of fallen branches, pruning trees, thinning dense shrubbery and cutting firewood – will never again seem so daunting with the advent of the new WORX® 40V, 14 in., Power Share Chainsaw. The versatile cordless saw is lightweight, quiet and independent of gas, power outlets and extension cord, which means it can go anywhere, start immediately and get right to work quietly and efficiently.
Besides delivering power aplenty, the WORX 40V, 14 in. Chainsaw features a brushless motor with electronically controlled power distribution, which increases battery run time over standard brushed motors. Because carbon brushes are eliminated, the motor is maintenance-free.
The chainsaw's brushless motor is powered by two, 20V, MAX Lithium, 2.0 Ah batteries. Battery charge levels can be quickly checked by pressing an electronic keypad. The chainsaw comes with a dual-port, 60 min. charger.
As part of the WORX 20V, Power Share program, the chainsaw's batteries are interchangeable with over 25 WORX lawn and garden and DIY tools, creating cost savings and convenience.
The 40V 14 in, chainsaw includes the patented WORX Auto-Tension system. Simply turn the dial on the saw's body, and the system sets the proper chain tension to prevent over-tightening without the use of tools. This convenient, auto-tensioning system not only saves time and effort, but also helps extend bar and chain life.
The chainsaw's automatic oiler system includes a reservoir with an oil level indicator, showing when a refill is needed. Constant lubrication is provided to both the bar and chain during operation.
A quick-stop chain brake helps prevent accidental cutting and allows the operator to stop the chain immediately before setting down the saw or moving to another location. The brake handle is designed for easy activation, whether the saw is held vertically or horizontally.
The 40V chainsaw weighs only 10.38 lbs., making it easy to maneuver. Overmolds on the front handle improve the operator's grip and help reduce fatigue. The 14 in. bar has a reduced-kickback chain with a 3/8 in. pitch and cutting speed of 26 ft./sec.
The eco-friendly cordless chainsaw is emission-free and has low operating and maintenance costs, compared to gas-powered models.
The WORX 40V, 14 in., Power Share Chainsaw (WG384, $219.99) includes two, 20V, MAX Lithium batteries (WA3575), a 20V, dual-port charger (WA3884) and chain sheath. It is covered by the WORX three-year limited warranty and is available at http://www.worx.com and Amazon.
Reach out to WORX social media links, including Facebook: https://www.facebook.com/worxus?ref=hl; Twitter: https://twitter.com/WORXTools; Pinterest: http://pinterest.com/worxtools and Instagram: @WORXTools