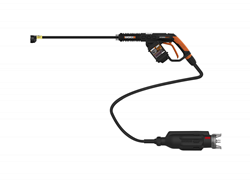 The new Hydroshot delivers more than 11 times higher water pressure than a standard garden hose and nozzle.
CHARLOTTE, N.C. (PRWEB) August 27, 2020
The new WORX® 40V, 725 psi Power Share Hydroshot™ ULTRA Portable Power Cleaner is packed with more cleaning power than any other Hydroshot to date. Yet, it has retained all the portability and convenience of the popular Hydroshot line, along with notable upgrades, including a hi-tech brushless motor and re-designed motor/pump configuration.
The new, high-powered Hydroshot combines two 20V MAX, Lithium 4.0 Ah, batteries to deliver pressurized water up to 725 psi. This is more than 11 times higher than the water pressure produced by a standard garden hose and nozzle.
This battery-powered, portable power cleaner is totally unlike heavy and hard-to-maneuver corded-electric or gas-powered washers. It's not tethered to a power outlet nor does it come with the fuss, fumes, mess and noise of a gas pressure washer.
The 40V Hydroshot is driven by a brushless motor with electronically controlled power distribution, which increases battery run time over standard brushed motors. Without carbon brushes, the motor is maintenance-free and allows for higher performance, extended runtime and longer life.
The new Hydroshot has a unique configuration, in which the motor pump is external and incorporated into the high-pressure hose system. This large motor pump provides premium performance, while taking weight off of the handheld wand portion of the tool, resulting in improved operator control and less fatigue.
Hydroshot features two operating modes, controlled by pressing a top-mounted button: watering (low) and power cleaning (high). On low mode, water pressure is 435 psi, while high mode is 725 psi. The four-pattern spray nozzle rotates to adjust from 0º to 15º, 25º, and 40º settings.
On high mode, the pump-driven, 40V Hydroshot has plenty of cleaning power to wash down decks, patios, vehicles, boat hulls, bicycles, gutters, siding, lawn furniture, undersides of lawn mower and tractor decks, and more. On low, Hydroshot provides a lighter spray for washing windows, screens, sliding door tracks and other cleaning projects. .
When attached to a standard garden hose, the 40V Hydroshot conserves water by using only 1.1 gallons-per-minute (gpm). It's also designed to draw water through a 20 ft., accessory hose (included) from fresh water sources including lakes, rivers, pools or buckets. An adjustable float on the accessory hose acts as a bobber to keep the intake from reaching sandy or muddy bottoms.
As part of the WORX 20V Power Share Program, Hydroshot's removable batteries are compatible with more than 35 other WORX lawn and garden and DIY tools. This battery-sharing capability results in significant savings and convenience.
Hydroshot includes a long, pressure-cleaning wand; two 20V 4.0 Ah Max lithium batteries; 60 minute dual-port charger (one hour per battery); 20-ft. hose accessory, and quick-connect adapter. Hydroshot also accepts aftermarket pressure washer accessories. It is covered by a WORX five-year limited warranty.
The WORX 40V, 725 psi Power Share Hydroshot ULTRA Portable Power Cleaner (WG649, $369.99) is available at worx.com.
Reach out to WORX social media links, including Facebook: https://www.facebook.com/worxus?ref=hl; Twitter: https://twitter.com/WORXTools; Pinterest: http://pinterest.com/worxtools and Instagram: @WORXTools