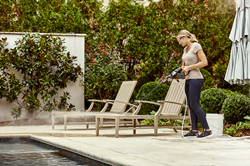 CHARLOTTE, N.C. (PRWEB) March 19, 2019
The new WORX® 40V Hydroshot™ is the most powerful portable power cleaner WORX has ever offered. It delivers 40 volts of power by combining two, 20V Max Power Share lithium batteries to drive its built-in pump into delivering pressurized water from 290 to 450 psi.
Based on an average of 60 psi for many households, the 40V Hydroshot delivers more than seven times the water pressure than a standard garden hose. At 450 max psi, the 40V Hydroshot makes quick work of power cleaning decks, patios or windows.
Hydroshot is not a pressure washer. There are plenty of gas and electric pressure washers on the market. What's unique about this hybrid power cleaner is its portability and flexibility. It's battery powered and not tethered to an extension cord or power outlet. Nor does it create the fumes or fuss associated with a gas-powered pressure washer, where gas and oil are paramount to its engine's operation.
The pump-driven, dual-system control nozzle features two operating settings: watering (Lo) and power cleaning (Hi). At Lo speed, water pressure is 290 psi, while Hi speed is 450 psi, ideal for power cleaning. The four-pattern spray nozzle rotates to adjust from 0º to 15º, 25º, and 40º settings.
The 40V Hydroshot is a water miser, too, that uses less than one gallon-per-minute (gpm) during operation. It draws water from a garden hose or through its 20 ft. accessory hose (included) from fresh water lakes, rivers, pools or buckets. An adjustable float on the accessory hose acts like a bobber to keep the intake from reaching sandy or muddy bottoms.
For certain, use it to wash a car, truck, SUV, motorcycle, off-road bike, ATV or van, but it also can hose down a dingy engine compartment, vehicle undercarriage, boat hull, underside of a lawnmower or tractor deck, a shower stall and more.
WORX Hydroshot is powered by two 20V MAX Power Share 2.0 Ah lithium batteries. These batteries have a built-in LED power gauge. By pressing the battery's red keypad, the power gauge indicates how many bars are left before the battery needs recharging. Run time varies, based on the selected operating mode and speed. The 20V batteries are compatible with other WORX DIY and lawn and garden tools.
Hydroshot includes a long pressure cleaning lance; two 20V MAX Power Share 2.0 Ah lithium batteries; 60 minute dual-port charger (one hour per battery); 20-ft. hose accessory and carrying bag. Hydroshot also accepts aftermarket pressure washer nozzles. The portable power cleaner is covered by the WORX three-year limited warranty.
The WORX 40V, Hydroshot Portable Cleaner (WG644, $199.99) is available at worx.com and Amazon.
To reach out to WORX social media links visit: Facebook: https://www.facebook.com/worxus?ref=hl; Twitter: https://twitter.com/WORXTools; Pinterest: http://pinterest.com/worxtools and Instagram: @ WORXTools
# # #