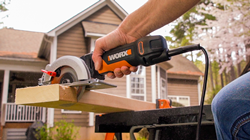 "The WORXSAW Compact Circular Saw is a lighter alternative when compared to the big bulky saws," said Sharon Blackwell, WORX Product Manager. "Don't let its size fool you; it's a small saw but it has full cutting capacity."
CHARLOTTE, N.C. (PRWEB) August 13, 2019
The new WORX® WORXSAW 4-1/2 in. Compact Circular Saw replaces its predecessor with a slimmer body and an ergonomic grip design for smooth and comfortable one-hand operation. The lightweight, 4 lb. saw is up to 50 percent lighter than conventional 7-1/4 in. circular saws.
The WORXSAW cuts 2x4's in a single pass, based on dimensional lumber sizing of 1-1/2 in. thick. The compact circular saw is easy to operate, even when making overhead cuts. Plus, its left-handed blade design provides great cut-line visibility.
The WORX Compact Circular Saw is easy to transport and provides great operator comfort, balance, and control. Although it's lightweight, this saw has a 4.5 amp motor with a no-load speed of 4100 rpm to cut through 1X and 2X stock and rip plywood sheets without missing a beat.
"The WORXSAW Compact Circular Saw is a lighter alternative when compared to the big bulky saws," said Sharon Blackwell, WORX Product Manager. "Don't let its size fool you; it's a small saw but it has full cutting capacity."
The saw's 4-1/2 in., thin kerf blade is not as thick as a blade on a 7-1/4 in. circular saw. Since the smaller, thinner blade takes less effort and motor strain to cut through materials, the 4.5 amp, 4100 rpm saw is a go-to tool when cutting sheet goods and handling smaller jobs.
The compact circular saw features a left-handed blade design for greater cut line visibility. There's a depth-of-cut adjustment lever for quick and accurate blade height adjustments up to 2 in. The saw's bevel cutting capacity is 0-45°. A push-button arbor lock provides fast blade changes. The WORXSAW has a 3/8 in. arbor.
The saw's maximum cutting depth at 90° is 1-11/16 in. and its bevel capacity at 45° is 1-1/8 in. In addition, the WORXSAW has a dust extraction port and a 1-1/4 in. vac adapter for dust collection.
The WORXSAW Compact Circular Saw accessories include a 4-1/2 in. 24-tooth, carbide-tipped blade, vac adapter, parallel edge guide, and a hex key for blade changes. The saw also has a 6 ft. power cord. The WORX compact saw has a three-year warranty.
The WORXSAW Compact Circular Saw (WX439L, $59.99) is available at worx.com and online retailers including Amazon.
Reach out to WORX social media links, including Facebook: https://www.facebook.com/worxus?ref=hl; Twitter: https://twitter.com/WORXTools; Pinterest: http://pinterest.com/worxtools and Instagram: @WORXTools