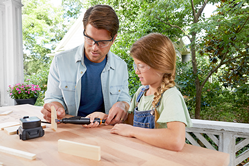 CHARLOTTE, N.C. (PRWEB) December 07, 2020
New WORX® holiday gifts for guys are practical, timesaving choices that lead to satisfying results. Choose from the versatile and creative MakerX Rotary Tool and Grinder Combo, 20V Power Share Leafjet Blower, the dual chuck 20V Power Share Switchdriver or the Pegasus Folding Worktable and Sawhorse.
The MakerX Rotary Tool and Angle Grinder Combo (WX990L, $129.99) bundles two of the most versatile tools in the MakerX system. Both tools are powered by a WORX 20V 1.5 Ah battery attached to a Power Hub. They represent a whole new world of hands-on opportunities for crafters, artisans, and do-it-yourselfers. The brushless rotary tool features a micro-ergonomic grip to handle projects with precision and control. The rotary tool features variable speed operation of 5,000 to 35,000 rpm for optimal results. The rotary tool is ideal for cutting, drilling, detail sanding, polishing, engraving, etching and more
Also in the combo kit is the portable, go anywhere .29 lb. Angle Grinder that accepts 1-1/2 in. wheels with a ¼ in. butterfly-style arbor, like Dremel® EZ-Lock™ wheels, and 2 in. wheels with a 3/8 in. arbor. The tool's compact micro-ergonomic body excels when working in tight quarters. The grinder is outfitted with an adjustable guard to deflect sparks and debris away from the user. The brushless grinder is ideal for cutting, grinding, sanding, polishing and carving. Its variable-speed ranges from 0 to 20,000 rpm.
The WORX 20V Power Hub is the heart of the system and powers the MakerX tools so you don't have to be by an outlet. Also included in the combo kit is the WORX 20V Max Lithium 1.5 Ah battery, battery charger, 16 accessories with case, and a carrying bag. See the entire MakerX collection atworx.com.
For the lawn care enthusiast, WORX redesigned their popular 20V Power Share leaf blower by combining the virtues of speed and air volume and driving both with an inline brushless motor. The dual-function, two-speed blower is powered by WORX 20V Max Lithium 4.0 Ah battery, which is compatible with 35 other WORX lawn and garden and DIY tools for convenience and cost efficiency.
This leaf blower's entire look is different to any other blower on the market. By pressing the orange release-button and sliding the variable air control nozzle, the user can choose between high-speed air or high-volume air modes. High-speed mode is great for dislodging leaves and debris from thick, grassy areas, while the high-volume mode is great for hard surfaces or larger areas. Slide the blower tube backwards for speed utilizing the narrow tube or slide it forward for greater air volume with the wide mouth tube. Plus, the blower utilizes dual air-intakes for pumping out greater air volume when in the forward position.
The lightweight 3.8 lb. blower features sonic turbine fan technology with its high speed brushless motor. The blower has two speed options. At low speed, it operates at 95 mph with 190 cubic-feet-per-minute (cfm). At high speed, it's velocity increases to 130 mph with 410 cfm.
The WORX 20V Power Share Leafjet Blower with inline brushless motor (WG543, $139.99) is available at worx.com. It is covered by the WORX three-year limited warranty.
When it comes to assembly work, the innovative WORX® 20V Power Share Switchdriver™ is tough to beat. This driver has a rotating head equipped with two ¼-inch chucks that can be loaded with different combinations of drill or driver bits. Drill a pilot hole and then quickly switch chucks to the driver bit to sink the screw.
Switchdriver's two ¼- in. hex chucks rotate 360º clockwise or counterclockwise with the push of a button above the trigger. Both quick-release chucks are easy to load and accept standard hex-shaped ¼ in. bits, which are widely available at hardware stores and home centers.
Switchdriver has been shown to drill pilot holes and drive screws in half the time as a conventional drill/driver. Drilling pilot holes makes screws go in easier and straighter. It also prevents work pieces from splitting or cracking.
Switchdriver is ideal for installing shelves, curtain rods or blinds with drywall anchors. Other typical applications include installation of kitchen or bathroom hardware, hinges and door sets, as well as assembly projects requiring different bits, including Phillips, slotted, square recess, Torx and nut drivers.
Switchdriver is powered by a 20V Max Lithium 2.0 Ah battery with a 5-hour recharge time. The versatile drill/driver features and 11-position clutch with electronic torque control to prevent stripping of screws. A two-speed gearbox provides no-load speeds of 0-400 and 0-1500 rpm. Maximum torque is 265 in.-lbs.
Switchdriver includes a 20V Max Lithium 2.0 Ah batteries, a 5-hr. charger, carrying bag and two drill bits (1/8 in., 3/32 in.) and one #2 Phillips bit. The tool is covered by the WORX three-year limited warranty.
The WORX 20V Power Share Switchdriver (WX176L.8, $99.99) is available at http://www.worx.com and other online retailers including Lowe's, Home Depot and Amazon.
Portability and easy storage are just two of the characteristics of the WORX Pegasus Folding Worktable & Sawhorse. This space-saving, folding worktable doubles as a sawhorse that supports up to half a ton (1,000 lbs.). Also, Pegasus has a 31 x 25 in. tabletop that supports loads up to 300 lbs. It quickly sets up wherever needed – in a basement, garage, driveway, patio or jobsite.
Built-in, aluminum channels are equipped with two quick-clamps (provided) that hold wood for cutting, sanding, gluing or finishing. There also are slots for four clamp dogs (provided) to secure circular or irregular-shaped work pieces. A lower storage shelf holds frequently used tools and materials, and includes a place to attach a power strip. It also interlocks with another Pegasus tabletop (optional) using link-lock from the side or back to provide an expanded work surface.
To use Pegasus as a sawhorse, the tabletop's extension wings fold down and lay flat on both sides. Notches at both ends of each sawhorse hold 2x4s for elevating 4x8 sheet goods for clamping. This arrangement supports crosscuts and rip-cuts without cutting into the sawhorses.
The WORX Pegasus Folding Worktable & Sawhorse (WX051, $119.99) is available at worx.com and online retailers, including Lowe's and Amazon. The worktable is backed by the WORX three-year limited warranty.
# # #
To reach out to WORX social media links, visit: Facebook: https://www.facebook.com/worxus?ref=hl; Twitter: https://twitter.com/WORXTools;
Pinterest: http://pinterest.com/worxtools and Instagram: @WORXTools