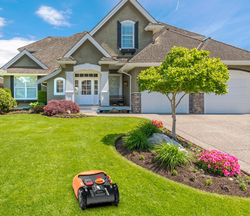 "Our new WORX Landroid robotic mowers are outfitted with the latest technology to make these 'smart mowers' a time saving asset to homeowners," said Thales Marques, WORX Product Manager.
CHARLOTTE, N.C. (PRWEB) March 25, 2020
Homeowners thinking about buying a new lawnmower or hiring a lawn care service this season might consider the alternative of a new, quiet and efficient WORX® Landroid™ robotic mower. From spring to fall, homeowners can maximize their weekends by having Landroid cut the grass for them, all season long, unsupervised.
Who's cutting the lawn? Enter suburbia these days during mowing season, and you're likely to run across open trailers with crews mowing lawns. While those services are convenient, they come at a premium. WORX has a cost-effective alternative which pays for itself in two seasons – a robotic lawnmower.
WORX has two basic robotic mowers; the 7 in. Landroid M (M, WR140), which cuts lawns up to ¼ acre and the 9 in. Landroid L (L, WR143), which handles lots up to ½ acre. These smart, streamlined machines are programmable to cut lawns in any day or time combination for an entire season using the Landroid's smart phone app.
It's time to retire the gas mower, the gas can, quart of oil, spark plug and air filter. With Landroid, there's no smelly fumes or loud engine noise. These whisper quiet robotic mowers represent the future in lawn care.
You don't have to be home to mow the lawn. From a favorite coffee shop, golf course, ballpark or other remote location, communication with Landroids is managed through the Landroid smart phone app. The Landroid can be programmed to cut the lawn as little or as often as needed. Tiny clippings assimilate into the lawn, acting like fertilizer for a vibrant, healthy lawn. Landroid automatically returns to its charging station to recharge its batteries. It even knows when to come in from the rain.
"Our new WORX Landroid robotic mowers are outfitted with the latest technology to make these 'smart mowers' a time saving asset to homeowners," said Thales Marques, WORX Product Manager. "They work on their own, so homeowners can spend time with their families and enjoy their leisure time."
What makes the Landroid innovative and unique is the modularity that allows the homeowner to customize it with optional accessories, such as an the Anti-Collision System (ACS), GPS tracking/cellular connectivity through "Find My Landroid" and "Off Limits," the electronic digital fence to make installation around obstacles faster and easier. A Landroid garage also is available to keep the Landroid out of the elements.
The Landroid's patented AIA (Artificial Intelligence Algorithm) technology gives the Landroid problem solving capabilities that allow it to cut the lawn more efficiently and to better navigate through narrow passageways compared to other robotic mowers.
Landroid's "Cut to Edge" feature offsets the mower's cutting blades to minimize the need for trimming. Cutting height adjustments are 2 to 3.5 in. for Landroid M and 1.5 to 4 in. for Landroid L. A dial switch on top of the mowers has low to high settings from one to five. The maximum incline for both mowers is a 20º slope.
With Plug-N-Play capability, Landroid has preprogrammed settings. Users don't have to customize the mower's programming after installation, although it is recommended. The Landroid app has a variety of functions that lets the homeowner program, monitor and troubleshoot the mower. A new feature is the lawn size calculator. By walking the lawn's perimeter with the Landroid app, it automatically calculates its size and then configures a working schedule for the mower based on the size of the lawn.
If it rains, Landroid's rain sensor sends the mower back to the charging station. The user can program when mowing resumes, based on the duration of the rain and when the grass is dry enough to mow. The Landroid app also monitors when the Landroid is cutting as well as charging. Updates to the Landlord's firmware can be uploaded automatically via Wi-Fi or cellular connectivity.
Other key features include multi-zone programming, which allows users to set up separate lawn cutting zones, such as front and back yards, tiered locations and berms. Also, homeowners can set up a four digit security pin number code to lock out Landroid's operation. In the event the mower is stolen, only the correct pin number will enable the mower to re-start.
Built-in safety sensors stop the Landroid blades when it's lifted or tipped. The sensors also reverse the Landroid if it makes contact with a person, pet or object. An LCD screen display sets up programming and pin code setting.
Common characteristics between the mowers include the WORX 20V Max Lithium 4.0 Ah battery, which is part of the WORX Power Share platform and compatible with more than 35 WORX lawn and garden and DIY tools. Also included is the charging base, nine cutting blades, screws and boundary wire and stakes. A hex key, two measurement gauges, and eight lawn screws are included for securing the charging station. The Landroid mowers are covered by the WORX three-year limited warranty.
The WORX Landroids feature weather-resistant construction. Homeowners may want to consider additional protection by adding the optional Landroid Garage. The Landroid Garage (WA0194, $139.99) is like a carport that provides an extra layer of overhead protection against the elements; whether it's heavy rain, wind or extreme temperatures. Easy-to-assemble, the overhead structure is anchored over the Landroid's charging base by a set of lawn screws (provided).
Customize Landroid to fit lawn care needs. Optional accessories include an Anti-Collision System (ACS) with an ultrasonic detection sensor (WA0860, $249.99) to avoid foreseen and unforeseen yard hazards and collisions.
The "Find My Landroid" accessory (WA0866, $299.99) utilizes GPS tracking through one free year of cellular connectivity to locate, monitor and communicate with Landroid.
The "Off Limits Digital Fence" (WA0863 $129.99) creates no-mow zones without using the original boundary wire. Also, new is the Radio Link Accessory (WA0867, $149.99). This module extends Wi-Fi connection from the house by up to 500 yards. It is recommended when the yard has multiple trees or other objects that may create transmission interference.
The WORX Landroid M (WR140, $999.99) and WORX Landroid M with onboard GPS "Find My Landroid" (WR150, $1199.99) are available at Worx.com, Amazon, Lowes.com and Homedepot.com. WORX Landroid L (WR143, $1299.99) and Landroid L with onboard GPS "Find My Landroid" (WG153, $1499.99) also are available at worx.com.
WORX Landroid Accessory Videos at mylandroid.com
Anti-Collision System ACS
Off Limits Digital Fence
Garage Accessory
Reach out to WORX social media links visit: Facebook: https://www.facebook.com/worxus?ref=hl; Twitter: https://twitter.com/WORXTools; Pinterest: http://pinterest.com/worxtools and Instagram: @WORXTools