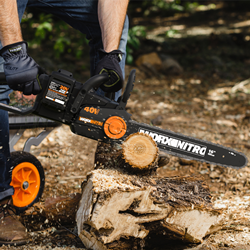 Power-packed chainsaw provides gas-like performance to cut timbers up to 30 in. diameter.
CHARLOTTE, N.C. (PRWEB) May 25, 2021
The new WORX Nitro® 40V, 16 in. Chainsaw harnesses the performance and run-time of dual, 20V, 4.0Ah Power Share PRO batteries, plus a high-efficiency, maintenance-free brushless motor. It's the fastest-cutting cordless chainsaw WORX has offered to date.
Throughout the year, homeowners need to contend with tree damage from storms and high winds, as well as overgrowth. This means cutting limbs that are broken, leaning against the house, hanging over walkways or interfering with other branches. Limbs have to be removed if they're dead, diseased or insect-infested. Overgrown shrubbery must be thinned. Then, there's stockpiling of firewood for campfires and fireplaces.
The Nitro 40V chainsaw definitely is up to all of these tasks. This power-packed chainsaw provides gas-like performance to cut timbers up to 30 in. diameter. Its 16-in. bar has a reduced-kickback chain with a 3/8 in. pitch and a high-speed cut rate of 59 ft./sec. to deliver professional-grade efficiency and results.
The included Power Share PRO intelligent batteries feature cell-cooling technology that enhances tool performance and extends run-times. Each battery cell is wrapped in thermoplastic to dissipate heat, provide impact resistance and maximize power. Power Share PRO batteries are compatible with all WORX 20V and 40V lawn and garden, DIY and lifestyle products.
Remaining battery runtime can be quickly checked by pressing the onboard battery indicator. The chainsaw comes with a 4-amp, dual-port charger that brings both batteries to a full charge in 2 hours.
The 40V Nitro chainsaw is equipped with an efficient and dependable brushless motor. The brushless motor runs cooler with less friction and heat buildup than conventional motors with brushes, resulting in smooth, reliable operation and extended tool life.
The Nitro chainsaw also provides a full complement of exclusive WORX features, including tool-less chain tensioning and automatic chain lubrication.
Turning the large dial on the side of the saw sets the proper chain tension to prevent over-tightening. In contrast, standard tensioning systems usually require the operator to make repeated adjustments, using one or more tools. The WORX one-step, tool-less tensioning innovation not only saves time and effort, but also helps extend bar and chain life.
An automatic chain lubrication system includes a reservoir with an oil-level indicator, showing when a refill is needed. The reservoir's capacity is 4.5 ounces. Constant lubrication is provided to both the bar and chain throughout operation.
The chainsaw's 16-in. bar has a reduced-kickback chain. If kickback does occur, a quick-stop chain brake stops the chain's rotation immediately. The brake also helps prevent accidental cutting and allows the operator to stop the chain immediately before setting down the saw or moving to another location. The brake's handle is designed for easy activation, whether the saw is held vertically or horizontally.
The eco-friendly cordless chainsaw is emission-free and has low operating and low maintenance costs, compared to gas-powered models. Also, there's no pull-cord, gas tank to fill, oil to check, spark plug and filters to replace, or loud motor noise to annoy neighbors.
The WORX Nitro 40V, 16 in. Chainsaw (WG385, $299.99) includes two, 20V 4.0Ah Power Share Pro batteries, a 20V, 4-amp dual-port charger and a bar and chain scabbard. It is available at worx.com and Amazon. A bare tool version (WG385.9, $169.99), minus the batteries and charger, also is available. The chainsaw is covered by the WORX five-year limited warranty.
Reach out to WORX social media links, including Facebook: https://www.facebook.com/worxus?ref=hl; Twitter: https://twitter.com/WORXTools; Pinterest: http://pinterest.com/worxtools and Instagram: @WORXTools