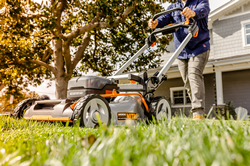 CHARLOTTE, N.C. (PRWEB) May 17, 2021
The new WORX® Nitro 40V 21 in. Self-Propelled Lawnmower is the latest mower in the new WORX Nitro 20V Power Share Pro platform. It's paired with a maintenance-free brushless motor for gas-like power and performance. The WORX Nitro mower also features a durable steel deck with superior mulching capability; and rear-wheel drive for positive traction and maneuverability.
The self-propelled lawnmower represents the new WORX Nitro line of performance-driven outdoor power equipment engineered with brushless motors and high performance batteries to run longer and work harder.
The WORX Nitro 40V 21 in. Self-Propelled Lawnmower makes lawn care easier and quicker. It's powered by two, removable, 20V Power Share Pro 5.0Ah Max Lithium Ion batteries to deliver 40V of power. When fully charged, the mower cuts lawns up to 1/4 acre.
Power and performance are the characteristics of WORX Power Share Pro Batteries. The batteries are compatible with WORX 20V Power Share batteries and fit all WORX 20V lawn and garden and DIY tools. Power Share Pro batteries provide improved power protection and run time through an intelligent battery management system with cell-cooling technology. Each battery's cell is wrapped in thermoplastic material to dissipate heat and maximize power and performance.
The efficient cordless mower is driven by a brushless motor for long life, longer run time and smooth, maintenance-free operation. Its rear-wheel drive transmission improves traction and maneuverability, especially on hilly or varied terrain. The mower's variable speed control allows the operator to set his or her own walking pace.
The self-propelled mower also features Intellicut™, the exclusive WORX torque-on-demand system that maintains constant cutting efficiency by electronically monitoring the need for torque. Sensors adjust to higher torque for thicker grass and reduce torque automatically when it's no longer needed for everyday mowing, maximizing battery runtime.
The 21-in. mower's 3-in-1 deck provides the options of mulching, bagging or side-discharging grass clippings. A new quick-change mode lever allows the user to choose between bag or mulch modes. The mower deck's steel construction assures even cuts and superior mulching or bagging results. The mower's Nutricut™ fine mulching-action cuts grass into fine particles, returning particles to the soil for fertilization. If bagging is preferred, the mower has a 2-bushel grass bag with carrying handle for easy emptying.
A single-lever cutting height adjustment provides seven positions from 1 to 4 in. This enables homeowners to quickly select the desired mowing height for the type of grass, season and growing conditions. The deck is equipped with 8 in. front wheels and 10 in. rear wheels for mobility and maneuverability around trees, shrubs, flower beds and other obstacles.
The user-friendly mower features two-step electric starting. First, push and hold the start button, while pulling back on the bail handle. Then, pull up on the self-propel handle to engage the self-propel action. Unlike gas-powered mowers, there's no cord to pull, choke to adjust, gas to fill, air filter or spark plug to replace, oil reservoir to check, or costly tune-ups.
The ergonomic mower features a foam-padded comfort handle with three adjustable positions. The handle also is fully collapsible for compact, stand-up storage.
LED lights provide added visibility in low light conditions. An onboard, charge-level indicator provides convenient charge level monitoring.
Standard equipment includes two, 20V Power Share Pro 5.0Ah Max Lithium Ion batteries, dual-port 2.5-hr. charger, rear grass bag and side-discharge chute.
The WORX Nitro 40V 21 in. Self-Propelled Lawnmower (WG753, $399.99) is available at worx.com. The mower is covered by the WORX five-year limited warranty.
Reach out to WORX social media links, including Facebook: https://www.facebook.com/worxus?ref=hl; Twitter: https://twitter.com/WORXTools; Pinterest: http://pinterest.com/worxtools and Instagram: @WORXTools