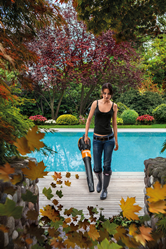 There currently are more than 18 million women homeowners in the U.S., many of whom are DIY enthusiasts.
CHARLOTTE, N.C. (PRWEB) February 05, 2019
Many homeowners, especially DIY enthusiasts, would much rather receive an innovative yard or shop tool on Valentine's Day than traditional roses or chocolates. Great options include the new WORX® GT Revolution 20V Trimmer & Blower Combo Kit and WORX 20V Oscillating Multi-tool.
This alternative to traditional Valentine's Day gifting applies to both men and women tool fans. Consider that there currently are more than 18 million women homeowners in the U.S., according to the Census Bureau. Their interest in do-it-yourself home maintenance and repair projects is highlighted online by 50 different DIY blogs targeted specifically at women.
The WORX GT Revolution 20V Trimmer & Blower Combo Kit makes an ideal gift for DIY valentines who aspire to maintaining a neatly manicured lawn with minimum hassle. This lawn-care power couple includes the most fully featured grass trimmer WORX has ever offered, along with a powerful turbine blower that rounds up clippings, leaves and other yard debris at air speeds up to 90 mph. Each of these user-friendly yard tools weighs less than 6 lbs.
The GT Revolution is a 3-in-1 trimmer that functions as a powerful grass trimmer, precision edger and mini-mower – all in one. Its twist-and-edge feature easily converts the trimmer into a wheeled, walk-behind edger for edging driveways, sidewalks, walkways and patios.
The GT Revolution also features Command Feed™, an electronic control that allows the user to feed additional trimmer line by simply pressing, then releasing, a pushbutton above the trigger. There's no more bump-feeding or waiting for line to advance.
In response to customer feedback, the GT Revolution now has a longer shaft to accommodate taller users. An onboard, extra-spool holder is attached to the trimmer's shaft for easy access to new line, when needed.
Click the following link to view the WORX GT Revolution in operation: https://www.youtube.com/watch?v=mI7ktCA6M74&t=7s
The WORX combo kit also will empower your valentine with a lightweight, but highly efficient 20V TURBINE Blower. Turbine blower technology pulls air directly into the fan and immediately forces it out through the large diameter blower tube. The tube contains a hyper-stream nozzle that concentrates and intensifies the air stream.
The blower's two-speed control provides air velocities ranging from 60 to 90 mph. The lower speed is ideal for fences, garages, screened porches and other areas. The higher speed blasts leaves and debris out of the way or across the lawn in no time. The blower's air volume or cfm (cubic-feet-per-minute) rating is 225 at 60 mph and 340 at 90 mph.
The WORX GT Revolution 20V Trimmer & Blower Combo Kit (WG954, $149.99) comes with two 20V, 2.0 Ah MAX Lithium batteries, battery charger and trimmer spool. The trimmer/blower combo is covered by the WORX three-year limited warranty. It's available at http://www.worx.com.
The WORX 20V Oscillating Multi-tool is designed to become the tool-of-choice for many of your valentine's DIY projects. Using the right accessory, it quickly completes tasks that require cutting, sawing, sanding, scraping, rasping, polishing, shaping and removal of grout or adhesives. Since the tool is powered by a dependable, 20V MAX lithium battery, it's not tethered to an electric outlet and there are no extension cords to get in the way.
The WORX Universal Fit accessory system allows the cordless oscillating tool to accept other brands of accessories without adapters. Plus, Universal Fit accessories can be used with all competitors' oscillating tools without sacrificing fit or performance.
Weighing only 2.9 lbs., the handy multi-tool has a slimmer grip circumference than any competing brand. It features a variable speed dial to set the oscillating speed, according to the accessory being used. Variable oscillating speeds range from 5,000 to 18,000 OPM (oscillations per minute), and the tool's oscillating angle is 3.2 degrees.
Higher oscillating speeds are best for cutting, sawing, sanding, rasping and polishing metal and stone. Lower speeds are used for scraping old paint, hardened adhesives and caulk.
The oscillating tool includes a 20V, 2.0 Ah MAX lithium battery, battery charger, 1-1/8 in. end-cut blade, sanding pad, three sanding sheets, Allen key and smaller flange (for other brands' sanding pads). The 20V MAX lithium battery is part of the WORX Power Share Program and is compatible with other WORX 20V DIY and lawn and garden tools.
With an end-cut blade attached, the 20-volt oscillating tool can quickly trim doorjambs, remove moldings and baseboard, cut PVC or metal pipe to length or cut nails and screws.
A semicircle saw blade can make plunge cuts in walls and ceilings for installing electrical boxes and vents, or cut drywall.
Use a scraper blade to remove blistered paint, take rust to bare metal or scrape hardened caulk or adhesives. Switch to a carbide grit semicircle blade to grind grout from between floor or wall tiles.
Triangular sanding pads and sanding sheets are good for sanding in corners and tight spaces.
The WORX 20V Oscillating Multi-tool (WX682L, $99.99) is available at worx.com and Lowes.com. It is covered by the WORX three-year warranty.
To reach out to WORX social media links visit: Facebook: https://www.facebook.com/worxus?ref=hl; Twitter: https://twitter.com/WORXTools; Pinterest: http://pinterest.com/worxtools and Instagram: @WORXTools