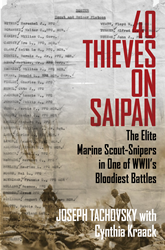 "It was like a puzzle was in front of me that I felt compelled to put together." - Joseph Tachovsky, Author of "40 Thieves on Saipan," after opening his father Lt. Frank Tachovsky's "off limits" footlocker filled with personal letters, photographs and medals from his WWII Elite Marines Platoon
GREEN BAY, Wis. (PRWEB) August 19, 2020
In sync with the 75th Anniversary of V-J Day (Victory over Japan, end of World War II, September 2, 1945), Midwest Authors Joseph Tachovsky and Cynthia Kraack announce the release of their new WWII history book: "40 Thieves on Saipan: The Elite Marine Scout-Snipers in One of WWII's Bloodiest Battles" about a covert Special Operations platoon led by Joseph's father, Lieutenant Frank Tachovsky ("Ski"). Known as the "40 Thieves," these brave men contributed to the V-J Day Japanese surrender on August 15, 1945, and official signing of papers on the USS Missouri on September 2, 1945, in Tokyo Bay.
After Lt. Frank Tachovsky passed away in 2011 at age 96, Joseph opened his father's "off limits" footlocker, and recently reflected on WBAY ABC 2 News Green Bay, "It was like a puzzle was in front of me that I felt compelled to put together." This treasure trove included personal letters, medals, photographs and memories, which are now the basis of this historic book about his father's undercover platoon on Saipan in the Northern Mariana Islands.
As part of the "Greatest Generation" and elite Marines in the South Pacific Theater, Lt. Frank Tachovsky never wanted to share his military war stories with family while alive. After discovering the documents, Joseph learned his father received the Silver Star Medal from the President of the United States (which was presented by Admiral Chester Nimitz), and became dedicated to researching the history of the "40 Thieves."
Over the next nine years, Joseph Tachovsky interviewed the surviving members and their families from coast-to-coast to record this untold story. Joseph discovered how the platoon worked behind enemy lines and used everyday items as weapons, including crushed glass and piano wires with handles. And after documenting 600+ pages of oral histories, Joseph worked with his Award-Winning Co-Author Cynthia Kraack to turn this treasure trove into a 300-page book.
Roscoe Mullins, one of the "40 Thieves", expressed his gratitude: "I am thankful that someone took the time to tell our story. Otherwise the world would never know the 40 Thieves, how we lived, what we went through, and how some of us died. I remember every one of my buddies and pray for them every day."
All "40 Thieves" names are on the book cover. Some of the highlighted American war heroes include:

Lt Frank Tachovsky (Sturgeon Bay, WI, and Joseph's father)
Roxie Tachovsky (Sturgeon Bay, WI, and Joseph's mother)
Wild Bill Emerick (Chicago, IL)
Don Evans ("Mr. Kansas City." Twice. Kansas City, MO)
Lonnie Jackson (Seattle, WA)
Bill Knuppel (Mesa, AZ)
Roscoe Mullins (Kayford Mountain, WV)
Jesus Orozco (San Francisco, CA)
Bob Smotts (Atlanta, GA)
Marvin Strombo (personally returned "Good Luck" Flag to Yasue family in Japan in August 2017 with Author Joseph Tachovsky. Missoula, MT)
Al Yunker (Los Angeles, CA)
During World War II, Japan considered the island of Saipan to be part of the last line of defense. The "40 Thieves on Saipan" were instrumental in winning the Battle of Saipan (June 15 – July 9, 1944) and V-J Day. The Battle of Saipan was considered one of the bloodiest World War II battles, and resulted in 2,949 U.S. Troops killed and 10,464 wounded (Wikipedia).
Today, there is only one surviving member of the "40 Thieves", which makes this documentary-style book even more important. Readers can learn more about their war story challenges, the important women in their lives, and see historic black and white photographs in this new book:
AMAZON
40 Thieves on Saipan: The Elite Marine Scout-Snipers in One of WWII's Bloodiest Battles
(Regnery History, June 2020)
https://www.amazon.com/40-Thieves-Saipan-Scout-Snipers-Bloodiest/dp/1684510481
FACEBOOK
https://www.facebook.com/40ThievesSaipan
MEDIA CONTACT:
Liz Kelly, 310-987-7207
ABOUT THE AUTHORS
JOSEPH TACHOVSKY (Green Bay, Wisconsin and Minneapolis, Minnesota) is an Author and son of WWII Lieutenant Frank Tachovsky ("Ski"), whose new book "40 Thieves on Saipan: The Elite Marine Scout-Snipers in One of WWII's Bloodiest Battles" (June 2020) documents many stories, photographs, letters and memories of the 40 brave men in his father's undercover platoon. Known as the "40 Thieves" for their covert Special Operations, these American war heroes took great risks and contributed to VJ Day (Victory over Japan Day). After his father passed away in 2011 at age 96, Joseph opened the "off limits" footlocker in the family garage and has dedicated the past decade to uncovering the stories of these American Heroes. As a graduate of the University of Minnesota, Joseph is a successful Minneapolis-based restaurant consultant (Chez Bananas). Members of the "40 Thieves" and this book have been featured on the TODAY Show, WBAY ABC Green Bay, Wisconsin, KTMF ABC/FOX Missoula, Montana, and in Stars and Stripes, FoxNews.com, AP, Missoulian, Montana Standard, and more. https://www.40thievessaipan.com
CYNTHIA KRAACK (Minneapolis, Minnesota and Green Bay, Wisconsin) is an Award-Winning fiction writer, who partnered with Co-Author Joseph Tachovsky to write the story of his father's WWII War Hero Platoon in "40 Thieves on Saipan: The Elite Marine Scout-Snipers in One of WWII's Bloodiest Battles". Kraack holds a B.A. in Journalism and History from Marquette University, a Master's degree from the University of Minnesota and an M.F.A. from the University of Southern Maine. https://cynthiakraack.com/