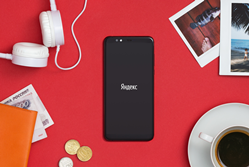 MOSCOW (PRWEB) December 05, 2018
Today, Yandex announced the release of its first smartphone, Yandex.Phone.  This device is the first phone to be fully powered by Russia's leading intelligent assistant, Alice, and it is the first smartphone to be entirely integrated into the Yandex mobile ecosystem of apps and services right out of the box.  Yandex is excited to provide mobile users with the best Yandex smartphone experience.
The Yandex smartphone gives Russian mobile users unrivalled integration with the company's ecosystem with a mobile experience personalised with Yandex apps and services.  Yandex.Phone learns more about its owner's schedule as they use the phone, and the phone provides notifications based on what its user is doing. Integration with Yandex.Maps gives users timely traffic updates while Yandex.Weather provides hyperlocal forecasting.
Yandex.Phone is the only smartphone in Russia to have Alice completely integrated into the phone.  For the first time, mobile users can use Russia's most powerful intelligent assistant across all apps and services.  Alice can be activated regardless of what a user is doing on the phone, and the user can employ voice commands to interact with the assistant even when the phone is not being held.
Yandex.Phone has a 5.65-inch Full HD+ LCD screen with IPS and runs Android 8.1 with the Yandex.Launcher interface, and an octa-core Snapdragon processor powers the phone.  A fingerprint sensor allows users to unlock the phone by touch, with Gorilla Glass on the front and back with an aluminum frame.  The phone has dual 12MP and 5MP rear cameras and a 5MP front camera, both with flash, and 64GB of expandable storage.
The phone retails for 17,990 rubles ($270) and will be available tomorrow at the Yandex Store at our Moscow headquarters.  On December 7, users can buy the phone through Beeline, one of Russia's largest telecommunications providers, and at M.Video and Eldorado retail electronics stores.  Users will also be able to buy the phone on December 7 through the new Beru e-commerce marketplace, with free delivery across Russia.