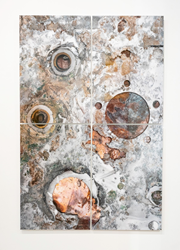 "Amazement is born out of the contemplation of details"
MIAMI (PRWEB) November 29, 2018
Artists have always sought collaborations with other artists to boost their horizons and creativity. Hector Adalid, photo artist from New York and metacyclist artist, Stefano Sanna from Sardinia/Italy, have developed their own collaboration processes to create very authentic abstract photo art. The artworks are inspired by a symbiosis of traditional materials such as weathered woods and corroded metals, captured and enlarged with highly complex digital photo technology
Hector's and Stefano's art objects are presented in international exhibitions throughout 2018, including the following U.S. dates:

Both artists are in Miami (RedDot/Art Fusion Galleries) and Ft. Lauderdale (ICFF/Pier 66) until December 9. Interview appointments can be coordinated by Isabel, a comprehensive digital press kit available.
About Hector Adalid
Born in Mexico City, Mexico in 1974, Hector Adalid, was always fascinated by the nature, authentic people and their history. He developed his passion for photography and art while living in Amsterdam for two years. As an anthropology major, he has many areas of interest beside his profession as a photographer. Hector continues to return to his home country to document different subjects, such as street gangs and Native American groups in the northern mountains of Mexico.  The latter work is part of the permanent collection of the National Anthropology and History Museum of Mexico City.