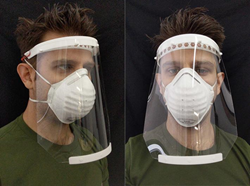 "My entire sale team is talking to doctors and to hospitals all day about the need for face shields." - Shapeways CEO Gregory Kress
NEW YORK (PRWEB) April 01, 2020
American hospital workers are in desperate need of personal protective equipment (PPE) to stay safe while treating Coronavirus-infected patients.
Staffers are in particular need of face shields, which protect them from patients' coughs and sneezes that can transmit coronavirus. Earlier this week, The Wall Street Journal reported that New York City mayor Bill de Blasio's office was in the process of ordering 1.5 million face shields over the next 3 months.
New York City-based 3D printing company Shapeways is stepping up.
On Monday, the company launched a medical face shield e-commerce page, where anyone with a credit card or PayPal account can purchase the PPE for hospitals in need. In less than 24 hours, the landing page has facilitated over 1,100 purchases.
Shapeways prints the masks at its Long Island City factory, which has been granted an exemption by the New York City government to remain open.
"There is a clear gap between the amount of face shields hospitals need and their purchasing budgets," says Shapeways CEO Gregory Kress. "There is also an information gap among the general public. People hear in the news that hospitals are undersupplied, but they don't know how to help. As the world's largest online 3D printing platform, we have the ability to bridge that gap - to connect people who want to contribute money to end this outbreak with hospitals who need money to pay for face shields."
Unlike cheaper face shields that cost $1 to $2 to manufacture, Shapeways' shields are medical-grade, can be sanitized and can be re-used multiple times.
More importantly, Shapeways is able to print its face shields and get them into hospitals in as little as 24 hours, and can supply thousands of shields a day.
"We are basically only printing face shields at this point," says Shapeways Chief Revenue Officer Miko Levy. "This is our main focus and effort. We are sending them to hospitals, and to municipal officials. I was just talking to New York City officials the last few days, and I've spoken to other officials from across the country. This is their priority, and it's our priority."