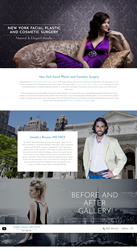 In my field, a series of options may exist to help the patient meet their aesthetic goals. The decision process in determining the best course of action is multifaceted, especially with the emergence of new technologies and procedures, says Dr. Joseph Rousso
NEW YORK (PRWEB) January 12, 2021
Dr. Joseph Rousso's article titled, "Practical Considerations in Adopting New Technology for Facial Cosmetic Procedures," was recently published in the Facial Plastic Surgery medical journal on December 24, 2020. Facial Plastic Surgery is a well-respected journal that publishes topic-specific issues covering areas of aesthetic and reconstructive plastic surgery as it relates to the head, neck and face. The journal's scope includes issues devoted to scar revision, periorbital and mid-face rejuvenation, facial trauma, facial implants, rhinoplasty, neck reconstruction, cleft palate, facelifts, as well as various other minimally invasive procedures. In the article, Dr. Rousso goes into depth on how the field of facial plastic and reconstructive surgery encompasses both surgical and nonsurgical facets, creating a supplemental level of care and an additional layer of complexity. He details how a basic and practical method of analyzing a new technology requires investigating the risk-to-benefit assessment, the utility and clinical outcomes compared with other treatment options and an introspective ethical appraisal of whether the technology is foremost for patient care purposes. He further explains how even after employing a new technology, constant monitoring and reevaluation of the results is necessary to determine if it should be continued or altered.
Link to the article - https://www.thieme-connect.com/products/ejournals/abstract/10.1055/s-0040-1721104
"In my field, a series of options may exist to help the patient meet their aesthetic goals. The decision process in determining the best course of action is multifaceted, especially with the emergence of new technologies and procedures," says Dr. Joseph Rousso
More About Dr. Rousso:
Dr. Joseph J. Rousso, MD, FACS, is double board-certified by the American Board of Facial Plastic and Reconstructive Surgery and the American Board of Otolaryngology- Head & Neck Surgery. In addition to contributing to medical journals and texts, Dr. Rousso utilizes his depth of experience and training to offer surgical and innovative non-surgical procedures for the face and neck at his state-of-the-art practice, located at 247 Third Avenue #404 in New York, NY. He is well-known for his expertise and offers a full range of procedures with a specialization in rhinoplasty, deep-plane facelifts, ear reconstruction and pediatric facial plastic and reconstructive surgery, such as cleft lip and palate repair. Additionally, Dr. Rousso is a clinical associate professor at the Icahn School of Medicine at Mount Sinai.
If you would like more information about the practice or to schedule a consultation, please visit http://www.facialplasticsurgery-nyc.com or call (212) 381-6110.