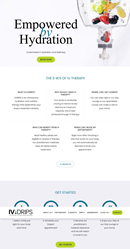 "IV hydration and IV vitamins help one improve their skin, by keeping hydrated and promoting collagen production. With our partnership at Jtav spa, we can help clients look and feel their best," says Bracha L. Banayan, NP
NEW YORK (PRWEB) April 20, 2022
IVDRIPS Customized IV Hydration & Wellness and JTAV Clinical Skincare are excited to partner to bring clients the safest, most effective intravenous hydration and vitamin treatments to replenish essential nutrients. JTAV Clinical Skincare, located on the Upper East Side of Manhattan at 29 E 61st St., near Central Park, offers advanced and effective non-surgical, clinical skincare options to address many aesthetic concerns. This new collaboration makes it convenient for spa clients to improve their health through IV therapy and look more beautiful in the process. IVDRIPS' science-backed therapies and formulations are created and perfected to address a variety of issues, providing essential vitamins, minerals and other nutrients directly into the bloodstream. Clients can simply book an IVDRIPS Customized IV Hydration & Wellness therapy appointment via the JTAV Clinical Skincare website, and an IVDRIPS nurse will complete the drip at the spa location.
IVDRIPS Customized IV Hydration & Wellness will be offering their wide menu of treatments at JTAV Clinical Skincare, such as vitamin drips, energy drips, immunity drips and hydration drips. These drips can help to improve wellness, boost metabolism and rehydrate the skin while giving the body the nutrients it needs, providing that youthful glow. IVDRIPS also offers amazing NAD + anti-aging infusions which specifically increase levels of NAD+ to aid in healing and cell regeneration, helping brain performance, metabolism and energy levels. All IVDRIPS therapy treatments are administered and monitored by experienced nurses, and each client is cleared by a NP prior to the session.
"IV hydration and IV vitamins help one improve their skin, by keeping hydrated and promoting collagen production. IV NAD helps with DNA repair, provides anti-aging effects and helps with decreasing inflammation With our partnership at Jtav spa, we can help clients look and feel their best," says Bracha L. Banayan, NP.
More About IVDRIPS Customized IV Hydration & Wellness:
IVDRIPS Customized IV Hydration & Wellness is owned by Bracha L. Banayan, NP. The team of registered nurses and medical practitioners are specialized in IV infusions. They have carefully selected the most critical nutrients and vitamins for health and formulated drips with perfect blends that complement and support each other. The body is quick to absorb the incoming nutrients through the bloodstream, as it naturally wants to be in a state of homeostasis and pure health. To find out more about the areas served by IVDRIPS Customized IV Hydration & Wellness and specific location contact information, please visit http://www.ivdrips.com or JTAV Clinical Skincare at jtavclinicalskincare.com or call (212) 755-1155.