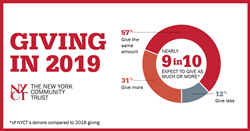 "New York is unlike any place in America — and this new research shows that donors who support New York's community foundation are as diverse as the city they call home."
NEW YORK (PRWEB) November 18, 2019
New York donors are more likely to support human services, the environment, arts and culture, and education than those in other parts of the United States, according to a new study of 20 years' worth of giving data by The New York Community Trust.
The report—The Power of Permanence: An Analysis of the Giving Habits of Donors at New York's Community Foundation—analyzes $2.4 billion in gifts to The Trust since 1998, donor surveys, and interviews to provide a first-ever portrait of giving in America's largest city, Long Island, and the Westchester suburbs.
Among the key findings:

Nearly 9 in 10 donors surveyed by The Trust say they expect to give the same amount or more in 2019 than they did in 2018.
As climate change has taken center stage in the national consciousness, New Yorkers have been stepping up support of nonprofits working to address environmental causes. The number of funds at The Trust dedicated to environmental issues has nearly tripled since the 1980s.
Doctors Without Borders, WNET, and the ACLU were the nonprofits that received the highest number of grants in 2018. Overall, The Trust and its donors supported nearly 5,000 nonprofits last year.
Donors have contributed an average of nearly $113.6 million annually to The Trust since 1998 through donor-advised funds, endowed funds, unrestricted funds, and field-of-interest funds.
During the same time period, The Trust and its donors have granted nearly $157.2 million annually to registered nonprofits.
"New York is unlike any place in America — and this new research shows that donors who support New York's community foundation are as diverse as the city they call home," said Kerry McCarthy, The New York Community Trust's Vice President of Philanthropic Initiatives. "Over the past two decades, they've adapted their giving to respond to the evolving needs of their neighbors."
The report also provides insights into why donors choose to give—and sheds light on their expectations for the future.
"I've been taught to believe that philanthropy is an important obligation for people who can," said Luther Ragin, Jr., who dissolved his family's small private foundation and rolled its assets into a donor-advised fund at The Trust 17 years ago. "I've always been impressed by how people with even limited resources have managed to be charitable. So those who have been blessed with more should do more."
A full copy of the report, as well as infographics and other visuals, are available at nycommunitytrust.org/PhilanthropicTrends
About The New York Community Trust
The New York Community Trust connects past, present, and future generous New Yorkers with vital nonprofits working to make a healthy, equitable, and thriving community for all. We are a public grantmaking foundation dedicated to improving the lives of residents of New York City, Westchester, and Long Island. For more information, visit us at nycommunitytrust.org.
Resources for Reporters
The New York Community Trust can connect reporters with philanthropic experts and donors for interviews.
To find the right source for your story, contact:
Peter Panepento
peter@turn-two.co
(202) 531-3886