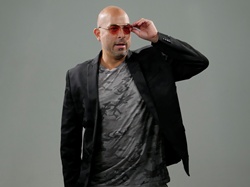 NEW YORK (PRWEB) November 24, 2020
New York entrepreneur Evan "The Biz'' is proud to announce his new line of electrostatic sprayers. The SaniSprayer360 provides facilities of all sizes, a safe, innovative approach to fight the "Novel coronavirus" (COVID-19). The sprayers have gained prominence throughout the United States and internationally. Evan figured out a way to bring the electrostatic sprayers to market when Clorox and other big brands could not. He has provided his groundbreaking sprayers to some of the biggest companies and facilities. This includes fortune 500 companies: hotel chains, airlines, and school districts. It also includes: the US military, nursing facilities, sports arenas, restaurants, and retail stores.
Evan "The Biz" turned his desire to help his hometown of New York City into a multimillion dollar business. He did this in just a few months. The technology of the SaniSprayer360 electrostatic sprayers make disinfectants more effective and more efficient. This is done by spraying an actively charged solution and using 75% less chemical to help eliminate germs and viruses, including the coronavirus. The electrostatic sprayers are portable as well as cordless and can disinfect spaces up to 40,000sf in an hour. In a time where thousands of businesses are closing their doors around the country, Evan's business offers hope to reopen their doors with a safe solution.
Evan "The Biz" the founder of SaniPro and other companies, has consistently scaled businesses to multimillion dollar status. He has proven himself in business as a successful developer, film producer, host, designer, manufacturer, mentor, and advisor. He is an entrepreneur's entrepreneur; a futurist with vision, innovation, and the desire to help his community.
SaniPro provides pandemic solutions. With the launch of The SaniSprayer360, Evan has revolutionized the way businesses and spaces can protect against COVID-19.
https://saniprosprayers.com
https://www.instagram.com/evanthebiz