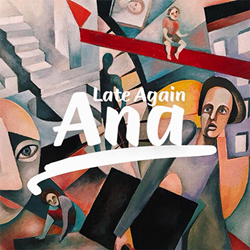 "The inspiration for the film came from my own experience as a mother and a filmmaker." - Anastasia Kochetkova
NEW YORK (PRWEB) February 28, 2019
New York Film Academy (NYFA) alum Anastasia Kochetkova's short film Late Again Ana is an official selection of Cinemaslam, the Miami Film Festival section that celebrates films made by students at Miami and South Florida film schools. Well known in Russia as a pop singer and actress, Kochetkova switched gears to pursue her filmmaking at the New York Film Academy in South Beach, Florida.
Kochetkova first studied Acting for Film at NYFA in 2015, attending two workshops before enrolling in the BFA program. After graduating, she pivoted to filmmaking and attained her MFA from NYFA.
'Late Again Ana' tells the story of a modern woman who battles a constantly ticking clock as she struggles to balance her children and her job. "The inspiration for the film came from my own experience as a mother and a filmmaker," says Kochetkova. "I was stuck in a huge traffic jam, and I was super late to pick up my daughter from school. I had so many mixed emotions about the situation. I was angry and worried. How can I be stuck in the middle of the highway with my precious child, not feeling well, and waiting for me? I felt a kind of energy surge through me, coming from the center of my being. Suddenly, the cars started to move and I flew through the traffic to my little girl. It was almost like the feelings for my child had given me this power, this energy that allowed me to teleport. So I decided to make a movie about it."
The Cinemaslam competition is part of the Miami International Film Festival (MIFF), which begins its 36th annual run on Friday, March 1.
New York Film Academy congratulates MFA Filmmaking alum Anastasia Kochetkova on the success of Late Again Ana and wishes her the best of luck as her career continues to develop!
About Miami Film Festival
Celebrating cinema in its 36th annual edition March 1 – 10, 2019, Miami Dade College's Miami Film Festival is considered the preeminent film festival for showcasing Ibero-American cinema in the U.S., and a major launch pad for all international and documentary cinema. The annual festival boasts more than 60,000 audience members and more than 400 filmmakers, producers, talent and industry professionals. It is the only major festival housed within a college or university. In the last five years, the festival has screened films from more than 60 countries, including 300 World, International, North American, U.S. and East Coast Premieres. Miami Film Festival's special focus on Ibero-American cinema has made it a natural gateway for the discovery of new talent from this diverse territory. The festival also offers unparalleled educational opportunities to film students and the community at large. For more information, visit miamifilmfestival.com.
About New York Film Academy
The New York Film Academy (NYFA) is a leading visual and performing arts school that offers courses across 15 areas of study in New York City, Los Angeles, South Beach/Miami, Gold Coast (Australia), Florence (Italy), and more. Thousands of aspiring artists come to study at the New York Film Academy each year from over 120 countries. For more information, please visit nyfa.edu.