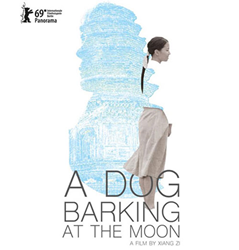 "The Berlinale is one of the most prestigious film festivals in the world. I'm delighted to see that José and Zi have parlayed their development at the New York Film Academy into this stunning achievement." - Crickett Rumley, NYFA Festivals Advisor & Liaison
NEW YORK (PRWEB) February 07, 2019
Zi Xiang and José Val Bal, two MFA Filmmaking alumni who met at New York Film Academy (NYFA) and married, are heading to the Berlin International Film Festival with their feature film, "A Dog Barking At the Moon." Xiang directed the film, while Val Bal shot and produced it. The film is nominated for the festival's GWFF Best First Feature Award.
The wife and husband team met and fell in love while attending NYFA at its New York City campus; eventually, both moved to Los Angeles to complete their MFA Filmmaking studies, and graduated only months apart. Xiang originally hails from Beijing, China, and is primarily a screenwriter and director, while Val Bal, born José Valero Ballesteros, is from Spain and began his career as an independent photographer.
Their film, "A Dog Barking At the Moon," is a rare co-production between China and Spain. It tells the story of pregnant writer Huang Xiaoyu, who finds herself trapped between her homosexual father and her mother, brainwashed by a cult. In addition to penning the screenplay, Xiang directed the film in June of last year while four months pregnant with her second daughter. Val Bal produced and served as the film's director of photography.
The Berlin International Film Festival, or Berlinale, was founded in 1951 and is one of the "Big Three" cinema festivals, along with the Venice Film Festival and Cannes Film Festival. "The Berlinale is one of the most prestigious film festivals in the world," says Crickett Rumley, NYFA Festivals Advisor and Liaison, "so premiering a feature there is a filmmaker's dream come true! I'm delighted to see that José and Zi have parlayed their development at the New York Film Academy into this stunning achievement."
"A Dog Barking At the Moon" is an Official Selection of Panorama, one of Berlinale's seven categories. The subset of films showcased in Panorama are new and noteworthy independent and arthouse films that deal with controversial subjects or unconventional aesthetic styles that are intended to provoke discussion, and have historically involved themes such as LGBTQIA+ issues.
All films selected to be part of Panorama are eligible for both the Panorama Audience Award, which has the largest voting jury of the festival, and the Teddy Award, which has grown into one of the most important LGBTQIA+ film awards in cinema.
The New York Film Academy congratulates MFA Filmmaking alumni Zi Xiang and José Val Bal on their tremendous achievement and wishes them the best of luck at Berlin and beyond!
About New York Film Academy
The New York Film Academy (NYFA) is a leading visual and performing arts school that offers courses across 15 areas of study in New York City, Los Angeles, South Beach/Miami, Gold Coast (Australia), Florence (Italy), and more. Thousands of aspiring artists come to study at the New York Film Academy each year from over 120 countries. For more information, please visit nyfa.edu.