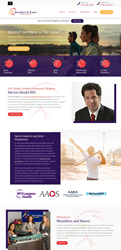 "Patient satisfaction is always my number one goal, and achieving this large number of positive reviews is very rewarding," says Dr. Steven Struhl.
NEW YORK (PRWEB) February 27, 2023
Well-respected, board-certified NYC orthopedic surgeon and sports medicine specialist, Dr. Steven Struhl, has worked hard to provide exceptional care and outstanding results to achieve an impressive number of top ratings. Find Local Doctors has selected Dr. Struhl as a Top Patient Rated Doctor due to these excellent reviews from his patients. Find Local Doctors is a user-friendly online directory that helps consumers connect with skilled physicians in their area. In addition to the exceptional feedback Dr. Struhl has received on other online platforms, a milestone worth celebrating was recently reached with passing the milestone of reaching over 100 5-Star reviews and an impressive Google average rating from his highly-satisfied patients.
Dr. Steven Struhl's Shoulders & Knees orthopedic clinic offers innovative treatments and advanced care for joint injuries and health conditions that impact mobility or quality of life, including the latest in minimally invasive and interventional medicine. He is internationally known as an expert in addressing AC joint separation using his patented, highly effective technique. Dr. Struhl performs all his procedures in state-of-the-art medical facilities, using the most advanced technology and imaging equipment available. He has treated patients from all walks of life, from the professional athlete with a sports injury to those requiring knee replacement surgery due to advanced arthritis. In all cases, Dr. Struhl and his team offer quick diagnosis and treatment plan progression, to provide each patient with individualized care that will offer long-lasting relief.
"Patient satisfaction is always my number one goal, and achieving this large number of positive reviews is very rewarding," says Dr. Steven Struhl.
More about Dr. Steven Struhl:
Dr. Steven Struhl is board certified in both orthopedic surgery and sports medicine/arthroscopic surgery and has been in private practice for over 22 years. He graduated from MIT and earned his medical degree from the University of California San Francisco. Dr. Struhl completed his residency in orthopedic surgery at Montefiore Medical Center in New York and a fellowship in sports medicine at Penn State University. He is a fellow of the American Academy of Orthopedic Surgeons and a member of the Arthroscopy Association of North America. He has authored numerous peer-review articles, and his research has been presented both nationally and internationally. Dr. Struhl has served as a medical consultant for the US Open tennis tournament and medical director for Sportscare Physical Therapy, official physical therapists for the Brooklyn Nets. To learn more or schedule an appointment with Dr. Struhl at his Shoulders & Knees orthopedic practice, call (212) 207-1990 for the Manhattan clinic or (914) 328-4111 for the White Plains, NY, location. You can also visit http://www.shouldersandknees.com for more information.