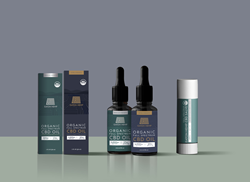 We are setting the gold standard for CBD quality by releasing one of the first full-spectrum, unfiltered, USDA Organic CBD products in the market.
NEW YORK (PRWEB) January 09, 2020
Eaton Hemp, the first licensed hemp farm in New York state in over 80 years, announces the launch of their USDA Organic CBD line, complete with two full spectrum, unfiltered CBD oils and a topical CBD salve. Available for purchase on January 8, 2020 on the Eaton Hemp website (https://www.eatonhempcbd.com/), the CBD products are made from 100% organic hemp grown, processed, and packaged in upstate New York. Eaton Hemp is co-founded by Mark Justh, Dan Dolgin, and Bryan D'Alessandro.
In 2016, Justh and Dolgin, co-owners of JD Farms, worked closely with New York state lawmakers and the governor's office to help make New York the epicenter of the hemp industry. That same year, JD Farms received the first and only license awarded to grow hemp under the state's research pilot program. In growing this crop, they quickly discovered the plant's health benefits as both food and medicine. After a successful harvest, they enlisted veteran branding and marketing expert Bryan D'Alessandro to launch the Eaton Hemp brand, which has become widely celebrated for its commitment to organic standards and transparent practices.
"We are setting the gold standard for CBD quality by releasing one of the first full-spectrum, unfiltered, USDA Organic CBD products in the market. While many claim to be organic, we believe USDA Organic certification to be the best way to know the product's legitimacy. If it isn't certified, it isn't verified. To ensure optimal quality and efficacy, we keep our oil unfiltered, maintaining the full benefits of naturally occurring cannabinoids and terpenes, just the way nature intended." says D'Alessandro, co-founder and CEO of Eaton Hemp.
As farmers, they understand the power of whole plants and all the goodness the plant has to offer. Utilizing the whole hemp plant, they infuse their CBD directly into their own 100% organic hempseed oil and balm, creating full-spectrum products that have phytocannabinoids, terpenes and flavonoids. The oils are also unfiltered, meaning that zero steps have been taken to remove or alter any of the naturally occurring compounds or terpenes upon extraction. As a result, Eaton Hemp's organic full spectrum, unfiltered CBD oils are sold as Regular Strength with 500mg per oz ($65-110) or Extra Strength with 1500mg per oz ($125-200).
The Total Body, Full Spectrum Hemp Infused Super Salve ($25-$299) is made with USDA Certified organic hemp extract infused with arnica, birch bark, and peppermint essential oil. The CBD works in harmony with natural pain and inflammation reducers.
"As one of the first USDA Organic Certified CBD oils on the market, Eaton Hemp is New York grown and produced, using their own organic hemp seed oil and utilizing the whole plant synergy. Therefore, consumers are getting the most bioavailable form of CBD on the market," says Dr. Will Cole, one of the top functional medicine practitioners in the country.
For more information about Eaton Hemp's CBD products please visit https://www.eatonhempcbd.com. Eaton Hemp's current line of whole hemp seed super snacks are available for purchase on EatonHemp.com and in select Fairway, Whole Foods and health food stores across the U.S. To connect with the brand on Instagram, follow @eatonhemp.
ABOUT EATON HEMP
Eaton Hemp is an organic hemp seed super snack company born on the first farm licensed to grow hemp in New York in over 80 years. Eaton Hemp's super snacks are made of nature's most nutritionally complete food source: hemp, which packs a powerful punch of plant-based protein, high amounts of prebiotic fiber, and the essential amino acids your body needs in the ideal omega 3:6 ratio. In 2016, Founder's Mark Justh and Dan Dolgin worked with the Governor and New York State Assembly to write new legislation that allowed farmers to legally grow hemp in New York. They brought on Bryan D'Alessandro as co-founder and CEO, leveraging his experience in brand development to launch the Eaton Hemp brand. Today, the farm grows a portion of the hemp used by the Eaton Hemp brand, with the remaining production coming from a network of farmers across the US, in an attempt to use hemp to help revitalize the North American agricultural landscape.