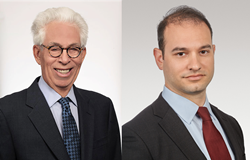 NEW YORK (PRWEB) December 15, 2020
The New York Staffing Association, New York's leading trade industry group representing staffing and placement firms, once again appointed Joel A. Klarreich and Jason B. Klimpl, partners at Tannenbaum Helpern, to its leadership team. Klarreich and Klimpl will serve as Senior General Counsel and General Counsel, respectively.
Klarreich, who has over 20 years working with the association, and Klimpl, with over 13 years, have been active at the New York Staffing Association, advising the association and educating its members of the legal and HR issues affecting the staffing industry. Throughout the COVID-19 pandemic, they have been actively educating members of the New York Staffing Association on the impact of the pandemic on the industry. They have held webinar briefings on the CARES Act, SBA Loans, PPP Loan Forgiveness, NYS and NYC Paid Sick Leave laws, how to deal with clients in financial distress, office reopening issues, and many others. In their new roles, they will continue to advise and represent the trade group and to educate its members, guiding them through the pressing HR and legal issues of our time. Klarreich and Klimpl also maintain close ties with the national trade group, the American Staffing Association.
About Tannenbaum Helpern Syracuse & Hirschtritt LLP
Since 1978, Tannenbaum Helpern Syracuse & Hirschtritt LLP has combined a powerful mix of insight, creativity, industry knowledge, senior talent and transaction expertise to successfully guide clients through periods of challenge and opportunity. Our mission is to deliver the highest quality legal services in a practical and efficient manner, bringing to bear the judgment, common sense and expertise of well trained, business minded lawyers. Through our commitment to service and successful results, Tannenbaum Helpern continues to earn the loyalty of our clients and a reputation for excellence. For more information, visit http://www.thsh.com or follow us on Twitter: @THSHLAW.