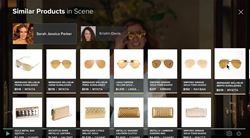 NEW YORK (PRWEB) November 24, 2020
BCG reported that 70% Gen Z prefer to discover products on content, not directly on a retailer site. Social commerce is NOW.
Facebook heavily invested in Facebook Commerce this year. Bytedance (Tiktok's mother company) reached $30B GMV sales last year from making content shoppable. Tiktok itself also received a $10B investment from Oracle & Walmart to do the same.
With Covid, Amazon sales are growing, and now started to kick off Amazon fashion. Global eCommerce content advertising allocation is $500B
Just like instagram, Tiktok, youtube have been encouraging influencers to manually tag products in their content. However, the solution Mai provides, making content instantly shoppable with AI, will be a game changer so influencers can focus on creating better content, instead of focusing on selling products directly to consumers. 62% of millennials want visual search over any other retail technology. Fashion ecommerce is now 39% of all online sales in the US.
Mai has spent three years working with top computer vision AI scientists, AI engineers and fashion experts to create the world's 1st fully automated video fashion shopping solution to fill $200B+ gap between digital content and eCommerce.
Mai has connected with top e-commerce platforms with a total of 20M SKUs, including Farfetch, Yoox, Bloomingdales, Saks Fifth Avenue, Shopbop, Forever21, SHEIN, SSENSE, H&M, Revolve in the US, and many top retailers & brands globally.
Mai went live with two of the biggest digital social content platforms in Asia with total 1B monthly users. The goal is to bring $20B new GMV towards eCommerce retailers, $2B revenue and $1B profit into Mai in 3 years.
"Now is the time for retailers and brands to embrace technology that both identifies and simplifies the buying process of their product, once it has been viewed digitally through organic, streaming content," says Terry Lundgren, retired Chairman and CEO of Macy's. "Companies like Mai offer this service on a 'pay-for-performance' basis making a new business relationship easy to justify, especially during challenging times when brands need to reach more consumers".
Here are examples of Mai in Action:
Pause and shop : https://youtu.be/6fNlcvE2pso
Watch and discover: https://youtu.be/OqGU0nukJ94
Mobile Watch and Shop: https://youtu.be/n0IrEb-ODq4
Founded by Joy Tang, a serial entrepreneur graduated from MIT undergrad, with a Gold Medal in Math Olympics, and an obsession for digital fashion. In 2018, Joy has won Goldman Sachs Top 100 Most intriguing entrepreneurs. In July 2020, Joy won first place in "MIT AI Idol 2020".
Mai raised a total investment around $9M USD from global notable investors including, Plug & Play, Cheetah Mobile, Dentsu (Japan's biggest advertising company), Infinity Venture Partners, Deepcore (soft bank early-stage AI Fund), Plum Alley, Cachet Family Office.
For more information, visit http://www.Markable.ai.