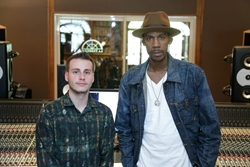 Attending SAE is a great choice if you're an aspiring engineer, producer, or artist. The school has helped me to better understand audio technology and dive into each aspect of the song creation and production process.
New York, NY (PRWEB) September 17, 2015
Jordan Barone, a student in SAE New York's Audio Technology Program, participated in Mixing with the Masters (MWTM), an intensive week-long seminar that was held at Studio La Fabrique in Saint-Rémy-de-Provence, France and featured master classes presented by "the world's top music mixers and producers". Barone was chosen to work with Young Guru, the Grammy-nominated engineer for Beyonce, Rihanna, Ludacris, Ghostface Killah, Redman & Method Man, Mariah Carey, and Jay-Z.
"I've watched videos of Guru demonstrating his techniques online and teaching at seminars, but working with him in person was an incredible experience," says Barone. "He focused not just on engineering, but on every part of the music business to ensure that we know exactly how to handle ourselves when we're working with clients."
Barone won his way to the seminar by submitting tracks that he wrote and produced. In the spring, he was notified that he was one of 15 engineers from around the world who were selected to be included in the seminar.
"Our days at Studio La Fabrique began at 10 am and we were supposed to finish working at 10 pm, but instead, we just kept going till around 6 am," says Barone, who cites The Neptunes, The Beatles, Quincy Jones, Jay-Z, and Tyler the Creator as some of his musical influences. "One thing that stuck out the most about what Guru taught us is the idea of simplicity and vibes: you have to feel exactly what you're creating and you don't have to go overboard. That's a lesson that will always stick with me."
Barone is a native of Staten Island, NY and comes from a musical family: his mother plays piano, his father plays guitar, and his older brother converted the family's garage into a recording studio to write and produce original hip hop songs. After graduating from Tottenville High School in 2012, he began composing tracks with his brother Stefan in their studio and got hooked on engineering and producing. Determined to learn his craft in a more professional setting, he managed to land internships at some of Manhattan's top studios, including Premier Studios, Terminus Studios, and Blast Off NYC.
"While I was interning, I kept seeing SAE banners in subway terminals, so I decided to take a tour of the school," says Barone. "Once I saw what it was all about, I knew that it was where I needed to go in order to further my craft. My goal was to better understand audio technology and dive into each aspect of the song creation and production process - and SAE has definitely done its job well by teaching that to me."
Barone is currently working as a freelance engineer with clients in studios around New York. He has also started a label along with his brother called Red Planet Records, which will release his own recordings as well as those of new artists.
"Attending SAE is a great choice if you're an aspiring engineer, producer, or artist," says Barone, who will be graduating from the school in April 2016. "Just narrow down whatever it is you want to do in the music industry and focus on reaching that goal. It's also essential to develop a DIY attitude: if you can't move forward because something is in the way, then you have to create your own lane. With that perspective, anything is possible."
About SAE
SAE Institute provides aspiring creative media professionals with a foundation of practical theory and valuable hands-on training in their chosen areas of concentration. Under the guidance of our faculty, which is comprised of working industry professionals, students gain the essential experience they need for entry-level jobs in the entertainment business. Our students are supported in their job searches by SAE's international network of alumni, many of whom are leaders in the music, film, game arts, and live performance arenas. We offer programs in audio technology across our seven US campuses, along with a music business program at select locations, all fully accredited and focused on preparing students for employment when they graduate. Bachelor's Degree programs in Animation, Audio, Film, Game Art & Graphic Design are available at the two locations of Ex'pression College, which is owned and operated by SAE Institute Group, Inc. SAE Institute Group, Inc. is a part of Navitas LTD. Learn more at USA.sae.edu.
About Navitas
Navitas is an Australian global education leader, providing pre-university and university programs, English language courses, migrant education and settlement services, creative media education, student recruitment, professional development, and corporate training services to more than 80,000 students across a network of over 100 colleges and campuses in 27 countries. Learn more at Navitas.com.