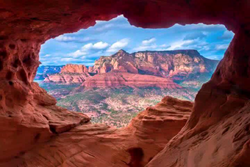 This is who I am! These are my rhythms.
Sedona, AZ (PRWEB) September 09, 2018
Shamanic healer, Anahata Ananda, was recently interviewed by nutritionist and New York Times best-selling author, Kimberly Snyder, on her "Beauty Inside Out" podcast. During the forty-minute interview, Anahata discusses the wide variety of Shamanistic traditions across tribes throughout the world, the blended techniques she utilizes at her healing center and offers a new perspective for living in the modern world. With analogies relating to each season, Anahata explains the importance of staying current and honoring what is going on in the present.
"In modern day, we get disconnected from the divine, from mother earth's rhythms and the moon cycles; we get disconnected from earth and earth energies, which are really very healing to the body," Anahata stated. She explains in her Medicine Wheel Journeys that autumn is a time for letting go, as represented by the leaves falling. "It is a natural process to sometimes grieve for what is lost or changing and it is important to really feel that emotion before moving on to what is next." Inner strength comes from the ability to make the time required for processing the details of the present, in order to formulate clear decisions for the next step. Anahata offers Shamangelic Healing Journey sessions to assist clients visiting Sedona, Arizona with this process.
The founder of the Shamangelic Healing Center explains the cycles of the moon as a calendar format to more closely assess what goals one wants to put into motion. As described in her Shamanistic style, seeds of intention are best planted as the moon is waxing from the new moon to the full moon. She shares a tip which states, while the moon is brightest, it is the time to reap what has been sewn, or in other words, take stock as to how the actions toward the goals made two weeks prior, are progressing. Frequently observing the effects of efforts put into achievements allows for necessary changes to be made more quickly, as soon as the need to do so is noticed.
Daily practices to connect to nature and one's own inner self have been scientifically proven to reduce stress, increase physical well-being and people report feeling a sense of oneness. Meditation is a very ancient practice across a variety of cultures sought out to manifest goals and calm the mind. Anahata shares that she created an online Meditation and Relaxation course to fill the growing number of requests for guidance in this area. She points out the necessity to be in harmony with ones inner self because the world around a person, reflects it.
The interview goes on to cover the topic of what the Shamanic healer refers to as spirit animals. This acknowledges the importance of paying attention to which animals a person attracts as they are going through their day. Each animal has certain qualities to assist someone to recognize the significance of an action needed at the time. Anahata uses the example of a dove, which she says represents peacefulness, and reminds people to relax, breathe and find the calmness in a given situation.
The podcast "Shamanic Healing With Anahata Ananda!" [BIO Podcast: Ep 297] can be found on iTunes and kimberlysnyder.com.
Kimberly Snyder, C.N. is the nutritionist and multi-time New York Times and #1 Amazon best-selling author of The Beauty Detox Solution, The Beauty Detox Foods and The Beauty Detox Power and Radical Beauty, co-authored with Deepak Chopra.
Anahata Ananda has trained extensively with gifted Shamans, energy healers and spiritual teachers from around the world to artfully integrate the fields of spirituality, energy healing, self-empowerment and Shamanic teachings. Her client-base spans the globe with individuals from all walks of life who are seeking to heal and awaken to their fullest potential.
Anahata offers a variety of Shamangelic Healing services year-round in Sedona, Arizona including private sessions, sacred land journeys and training courses incorporating Shamanic teachings and other energy healing modalities. She also offers Tailored Retreats for individuals, couples and small groups which can include a combination of offerings based on various needs and areas of interest.
For detailed descriptions and a calendar of all training courses and spiritual awakening services offered by Anahata visit http://www.shamangelichealing.com/