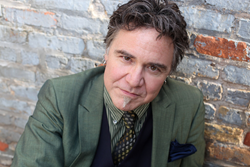 All great leaders are great storytellers, and all great communicators understand the power of narrative.
CHICAGO (PRWEB) November 05, 2018
New York Times best-selling author of "The Walking Dead" novels, Jay Bonansinga, and premier global communication skills training provider, Pinnacle Performance Company, have partnered to provide one-of-kind, experiential storytelling for business workshops.
These interactive and fast-paced Story Power masterclasses will teach attendees how to successfully incorporate personal stories and anecdotes to inspire, impact, challenge and motivate their stakeholders. Using the power of narrative, attendees will learn how to inspire audiences to take action, impact how audiences think and feel about subjects, challenge audiences to consider things previously unconsidered, and motivate teams to overcome obstacles and achieve more.
"All great leaders are great storytellers, and all great communicators understand the power of narrative," said Pinnacle co-founder and CEO David Lewis. "Stories can serve as springboards to communicate new strategies, structures, policies, identities, and goals. Stories connect a listener to what they already feel is important to them—what they want or need. Stories, when delivered effectively, resonate emotionally with a listener and impact the way they think or feel about a subject or topic. We're thrilled to partner with Jay, a master storyteller, to bring these workshops to our clients."
Bonansinga and Pinnacle Performance Company co-founder and chief operating officer G. Riley Mills will co-facilitate five Story Power workshops in 2019. For more information regarding these unique, high impact Story Power workshops, please click HERE.
About Jay Bonansinga
Jay Bonansinga is the New York Times bestselling author of "The Walking Dead" novels. He has authored more than 50 acclaimed short stories and 15 original novels, including the Bram Stoker finalist "The Black Mariah" (1994), the International Thriller Writers Award Finalist Shattered (2007), and the acclaimed horror opus "Self Storage" (2016). His work has been translated into 17 languages, and the Chicago Tribune called him "one of the most imaginative writers of thrillers."
As a speechwriter and creative director, he has worked for companies as diverse as International Trucks, Nestle Healthcare, Maytag, Kraft, Eli Lilly Pharmaceuticals, Federal Express, Panasonic, and Duracell, among many others. Jay also teaches creative writing at Northwestern University's prestigious School of Radio, Television & Film, as well as the University of Cincinnati's Digital Media Department. You can find Jay online at http://www.jaybonansinga.com and http://www.magnetikink.com.
About Pinnacle Performance Company
Pinnacle Performance Company provides individuals, from introverts to polished speakers, with the tools and techniques needed to become more influential communicators. By applying our innovative, three-step process, we show you how focusing on your message's objective and delivery will allow you to achieve specific audience reactions, captivate your audience and communicate like a true leader.
Pinnacle Performance Company's exclusive master instructors have trained thousands of business professionals worldwide, including CEOs, senior executives, professional speakers, sales people, trainers, engineers, customer service reps, and more. The company has trained in more than 40 countries for large Fortune 1000 companies, including Accenture, AstraZeneca, Apple, CapGemini, 3M, TripAdvisor, Oracle, Barclays, Underwriters Laboratories, KPMG, Emirates Airlines, Infosys, and more.