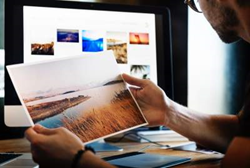 Often a great image can be blasted out across social media platforms to entice people to click the headline and visit your site.
NEW YORK (PRWEB) November 20, 2018
Lounge Lizard is globally recognized as a top New York Web Design Company within the web design and development industry. Lounge Lizard's brandtenders are creative, tech-savvy, and passionate in developing innovative strategies that drive conversion for both startup and established clients of all industries, making them the "best of breed since 1998."
The primary reason for having highly shareable images with your content is to help with promoting it. Often a great image can be blasted out across social media platforms to entice people to click the headline and visit your site. But how can you easily create these types images? Today New York web design company, Lounge Lizard, discusses the 4 steps to creating shareable content images.
1. Determine location. First you need to decide where this content is going to be shared. This step is important because each social platform has its own rules for photos that will be posted. Also, the optimal file dimensions can be different between platforms.
2. Find a great image. Once you have the "where" it is much easier to find an image that fits the parameters of the platform, works for your content, and is also the type of image that will interest and entice the target audience. There are numerous stock image and non-stock image sites available. We recommend having a mix of sites that you use including premium stock images like Offset or Depositphotos along with free sites like Pixabay that provides royalty free images released under creative commons.
3. Optimize the image. You should always optimize images using a photo editor. On Facebook a landscape image works well. On Pinterest a taller image in preferred, while Instagram works best with square images. Additionally, you want to add your logo, website address, and company name to photos and possibly the title of your content post to help encourage clicks. You can also add a good quote or line from the content to increase engagement. When you purchase images from a premium stock service you are allowed to make changes.
4. Use image sharing. Automatic image sharing should be set up. There are various tools available to create share buttons for when someone clicks the social network share button or even add share buttons to images. This allows the images to be automatically picked up by visitors. Social platforms also have sharing options that should be reviewed to maximize sharing opportunities. People can find your images on a platform like Facebook and share it even from a personal profile.
Lounge Lizard New York Web Design Company is an award-winning, high-end design boutique specializing in website and mobile app development, UX/UI, branding, and marketing. Lounge Lizard excels in creating the ultimate brand strategy, fully loaded with expertly crafted visuals that work together to increase sales and effectively communicate a client's unique personality.
Media Contact: Ken Braun, Lounge Lizard, 631-581-1000, ken(dot)braun(at)loungelizard(dot)com