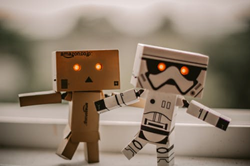 NEW YORK (PRWEB) December 19, 2018
Lounge Lizard is globally recognized as a top New York Web Design Company within the web design and development industry. Lounge Lizard's brandtenders are creative, tech-savvy, and passionate in developing innovative strategies that drive conversion for both startup and established clients of all industries, making them the "best of breed since 1998."
Technology drives change in the online business world. Part of that change and evolution has been the introduction and subsequent growth of chatbots as they absorb more business functions. Today New York web design company, Lounge Lizard, explains how Chat Bots are taking over the Human Race and how to get started with one.

History of a chatbot - A chatbot is a computer program that can simulate human conversation from either text or voice commands. Chatbots roots go back to 1950 and the Turing Test created by Alan Turning which is a way to test a machine's ability to use behavior like that of a human. Siri is the first well-known example of a chatbot. According to a 2017 report from Grand View Research the global chatbox market is expected to reach 1.25 billion by 2025.
Chatbots in customer service – There is a growing use of chatbots to relieve customer service agents from the simple tasks such as information gathering. By assisting with these small moments, agents then would have additional time to handle issues that a bot can't. Additionally, the bots have an unlimited schedule allowing 24/7 response, 365 days a year.
Chatbots in marketing– Chatbots can be integrated with numerous marketing and communication platforms such as Facebook Messenger. Messenger has access to 1.4 billion monthly users which is a huge audience. Compared to email, messenger broadcasts have a higher open and click rate which can be used effectively for lead generation.
Chatbots replacing humans – While there is a growing concern about chatbots replacing humans, until they are able to develop more empathy and human problem-solving skills, AI is limited. Instead, chatbots should continue to be used to assist in customer service and marketing by handling simple functions to create quicker, more efficient exchanges with customers.
Getting started with a chatbot:

Identify the problems a chatbot could solve and outline your goals.
Determine if you can use an existing, credible platform or if you should develop a more customized option from scratch.
Create an outline of the design for your bot by imaging how interactions would take place from start to finish and how responses should be framed to continually move forward.
Add a 'connect to a live person' option to avoid any loss of leads.
Test the bot thoroughly then make revisions, repeating the process until the bot functions seamlessly.
After launching continue to monitor interactions and look for ways to make improvements.
Lounge Lizard New York Web Design Company is an award-winning, high-end design boutique specializing in website and mobile app development, UX/UI, branding, and marketing. Lounge Lizard excels in creating the ultimate brand strategy, fully loaded with expertly crafted visuals that work together to increase sales and effectively communicate a client's unique personality.
Media Contact: Ken Braun, Lounge Lizard, 631-581-1000, ken.braun(at)loungelizard.com