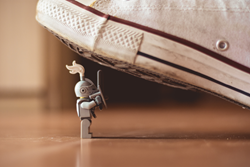 Small businesses can triumph over larger ones by using smart digital marketing strategies.
NEW YORK (PRWEB) December 10, 2018
Lounge Lizard is a New York Website Design company that is recognized within the web design and development industry for their amazing designs. Lounge Lizard's brandtenders are creative, tech-savvy, and passionate in developing innovative strategies that drive conversion for both startup and established clients of all industries, making them the best of breed since 1998.
There are numerous challenges that small businesses face such as money management, balancing quality and growth, or founder dependence. The biggest challenge SMBs face however is staying competitive and growing when competing against larger businesses on the internet. Today NY based web design company, Lounge Lizard reveals how David can beat Goliath on the internet. Small businesses can triumph over larger ones by using smart digital marketing strategies.

Hyper Focus – One of the biggest problems a small business has is that it is a small fish in a big pond. It is hard to fight the bigger fish for the bigger chunks of food which is why SMB's need to develop a hyper focus on a smaller, underserved niche and look to outperform everyone in that space. That means narrowing down the target market to a very specific group and then marketing to them relentlessly in a way which will resonate. Once a business is able to dominate one niche then attention can be turned towards other niches as sales and growth allows.
Solve Pain Points - What are the target customers' biggest problems and pain points? It is important to use surveys to truly get to know the issues customers face in a given space. Maybe the big box store doesn't deliver and that is a service a segment of customers really would utilize. By providing solutions to problems, then the products or services sell themselves.
Competitive Angle – What does your business do better than everyone else? Whatever that competitive angle is, it needs to be paraded about like the Stanley Cup. This can be done with storytelling and should even be included in a brand story. There are a lot of ways to create a competitive angle that doesn't always have to be something huge. Products might be gluten free or the packaging could be the eco-friendliest.
Create Content – Digital marketing efforts should be centered around creating great content focused on a specific niche. Once the most important problems and pain points of customers are determined, that provides a great starting point for content that will resonate.
Amazing Customer Service – The most common complaint lobbed at big companies is how impersonal they can be. That is a powerful impression that can only be leveraged for success if a small business then goes above and beyond with customer service and customer relation efforts. Doing this will earn loyalty along with word-of-mouth marketing that can greatly boost a brand.
Great User Experience – A website typically provides a first impression to potential customers which is why it is the cornerstone for providing a great user experience. It takes only a few seconds to make an impression and grab people's attention. By making a website easy to use and built for a specific customer group, it allows needs and problems to be solved quickly and easily which makes for a wonderful experience.
Perfect Pricing – The best pricing isn't always the lowest; it is the best value for your money. Look at the niche customer base and determine who is being sold to and what they can afford and then create the perfect pricing strategy for products or services.
Stay Innovative – Heraclitus of Ephesus once said, "The only thing that is constant is change." Innovation should be a regular consideration for any small business trying to tackle larger ones. Taking a risk can spark an explosion when a business taps into something with products or services that people fall in love with. Try new ways to market such as Text Message Marketing for example. A lack of innovation has been the downfall of many businesses such as Blockbuster, Compaq, Polaroid, or Borders.
Lounge Lizard Top Web Design Company is an award-winning, high-end design boutique specializing in website and mobile app development, UX/UI, branding, and marketing. Lounge Lizard excels in creating the ultimate brand strategy, fully loaded with expertly crafted visuals that work together to increase sales and effectively communicate a client's unique personality.
Media Contact: Ken Braun, Lounge Lizard, 631-581-1000, ken.braun@loungelizard.com