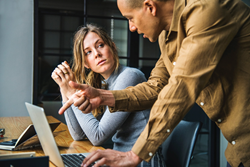 According to research from last year a whopping 88 percent of consumers are pre-researching purchases online before making a purchase, either in-store or online.
NEW YORK (PRWEB) November 30, 2018
Lounge Lizard is globally recognized as a New York website design company within the web design and development industry. Lounge Lizard's brandtenders are creative, tech-savvy, and passionate in developing innovative strategies that drive conversion for both startup and established clients of all industries, making them the "best of breed since 1998."
Your brand's reputation has always been important, but in today's world of information and connectivity that reputation is directly related to conversions. Research is playing a larger role in purchase decisions either online or in-store. Due to this, it is critical that a brand stays informed of their online reputation. Today NY based web design company, Lounge Lizard, shares the Top 5 Online Reputation Management Tools for your Business.
Fun fact, according to research from last year a whopping 88 percent of consumers are pre-researching purchases online before making a purchase, either in-store or online. In addition, negative reviews and feedback can cost you conversions as more than 75 percent of buyers will hesitate to pull the trigger in light of too many negative reviews. Finally, Google includes a customer satisfaction aspect in their ranking signals. That is why it is using an Online Reputation Management tool or tools regularly should be part of your marketing strategy to ensure you can react quickly to negative reviews and news about your business and brand.
1. Google Alerts – This tool should be used by everyone quite frankly. It is free and a great way to monitor your brand. You can use your business or brand name along with variations and even top products (if they are unique) and then receive email notifications of mentions via Google's database.
2. Awario – This platform is called a 'social listening' tool that tracks in real-time mentions on social networks and the web. It includes tools for analysis, spotting content theft, and even finding copyright infringements after the alerts are set-up. It also has a nice feature for analyzing the competition and what their customers like and dislike.
3. Social Mention – This free tool monitors social media sites and allows you to measure, monitor, and work to improve your reputation. It categorizes mentions so you have a better understanding at a glance the power and reach of that mention. They monitor over 80 social media sites including all the big players like Facebook, Twitter, and YouTube.
4. SentiOne – This platform allows not only real-time data analysis but also historical data review which can be useful. Along with the standard social, web, and keyword tracking, they utilize a nice filtering system to help categorize and organize data into useful reports.
5. Reputology – For monitoring online reviews, this is a good tool. You can track and manage reviews from places like Google, Facebook, and Yelp along with industry-specific review sites. This platform has the ability to monitor reviews for multiple location separately to help you more easily see which locations are performing good or bad. Negative reviews can be set up to create customer service tickets to ensure a quick response to upset clients.
Lounge Lizard Website Design Company is an award-winning, high-end design boutique specializing in website and mobile app development, UX/UI, branding, and marketing. Lounge Lizard excels in creating the ultimate brand strategy, fully loaded with expertly crafted visuals that work together to increase sales and effectively communicate a client's unique personality.
Media Contact: Ken Braun, Lounge Lizard, 631-581-1000, ken.braun@loungelizard.com