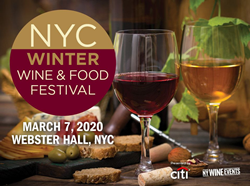 We're excited about moving our long-running winter wine and culinary event downtown to the stunning Webster Hall... It offers a spectacular setting where guests can enjoy sampling and learning about a large array of wine, artisanal food, and lifestyle companies.
NEW YORK (PRWEB) February 06, 2020
New York Wine Events is pleased to announce its New York City Winter Wine & Food Festival presented by Citi featuring 100+ wines from around the globe will be held on Saturday, March 7, 2020 at Webster Hall in Greenwich Village. The 11th annual winter event moves to the recently renovated landmark venue which features an expansive ballroom and sweeping balconies. General admission sessions for will be held at 2:00-5:00pm and 7:00-10:00pm. Special Premium Early Access and VIP ticket levels offer guests the option of walking the extensive wine and culinary event one hour earlier, commencing at 2:00pm for the afternoon session and 7:00pm for the evening. During each tasting session, guests will enjoy live contemporary jazz performances by internationally acclaimed saxophonist Jesse J.
The NYC winter wine and food event will feature an extensive curated selection of wines, craft spirits and other beverages, diverse light fare on the buffets including hors d'oeuvres and cheese and cracker selections, plus diverse artisan food and beverage tables sampling tapenades, salsas, oils, and dips, charcuterie, granola, kombucha, juices, and other specialty items. Wine tasting tables located throughout the ballroom, halls and balconies will include a diverse curated selection of fruit-forward, dry, and round red wines, crisp, buttery, and smooth white wines, and refreshing sparkling wines. Guests will experience vintages from Old and New World wine regions including France, Italy, Chile, Spain, Portugal, New Zealand, South Africa, California, and more. Select New York State wineries will also be showcased, and will offer wine for sale by the bottle for guests to enjoy at home.
A VIP Ticket option includes early access to the main tasting plus admission to the exclusive Citi VIP wine tasting suite. The VIP experience takes place in the luxurious Ritz Bar and features 12 high-end wines, plus premium passed hors d'oeuvres including Filet Mignon with Yukon Gold Potato & Béarnaise Sauce, Miniature Maine Lobster & Shrimp Rolls on Brioche, Tuna Tartar with Pickled Cucumber & Wasabi Caviar, Pâté de Mousse de Foie Gras with Cranberry Compote on Ficelle, and White Truffle and Pecorino Arancini. Premier wines from major regions such as Champagne, Bordeaux, Rioja, Tuscany, Piedmont, and California will be poured in the spacious suite for VIP ticketholders only.
"We're excited about moving our long-running winter wine and culinary event downtown to the stunning Webster Hall which recently underwent an incredible $40 million renovation. It offers a spectacular setting where guests can enjoy sampling and learning about a large array of wine, artisanal food, and lifestyle companies as well as experience an incredible performance by saxophonist Jessy J, adding to the always-exciting atmosphere," notes Sam Kimball, founder of New York Wine Events. "The conveniently located Greenwich Village landmark venue adds a new twist to New York's #1 winter tasting, now in its 11th year."
Musical guest Jessy J is an internationally acclaimed artist who brings her unique Latin flair to the musical stylings of contemporary jazz. Jessy and her band will perform live on stage during portions of the event.
Sponsors and artisanal food purveyors to date include 90+ Cellars, Alexian Pate, Bazzini Wine, BakeSale Chocolate Chip Cookie Liqueur, The Better Pop, Blossom Water, Brockmans Gin, Brooklyn Crush Wines, Brooklyn Granola, Buffalo Trace Bourbon, Castello di Borghese Vineyard, Drunken Fruit, Ferreira-Carpenter Winery, Fragrances of Wine, Gladiator Wine Imports, Green Mountain Energy, HelloFresh, Jamesport Vineyards, Ketel One, Lenz Winery, The Long Drink, Maiden + Liberty, Mengler Family Wines, Olde York Farm Distillery & Cooperage, Organic Olive Juice Co., Our/NY Vodka, Pazdar Winery, Papi Wines, Pierre's Spicy, Salsa Di Parma, Sauvage, Sparkling Ice, Springbrook Hollow Farm Distillery, Taconic Distillery, Theme Night Wines, Victorianbourg Wine Estate, Vinkara Wines, Wheatley Vodka, White Claw Hard Seltzer, Yaso Tangbao, and Yankee Folly Cider. More sponsors, wineries, and artisanal food companies will be added in the weeks ahead.
For over a decade, New York Wine Events' popular New York metro area wine festivals have drawn sold out crowds and the 2020 New York City Winter Festival event is expected to do the same. Participating artisanal food companies and New York State Farm Wineries and Distilleries will feature items for guests to purchase and enjoy at home and select lifestyle vendors selling wine-centric products and apparel will be exhibiting and selling as well.
Tickets are on sale now, priced from $55 to $199, depending upon ticket level and time of purchase. Advance purchase for the March 5th wine event is highly recommended. Check the New York Wine Events web site for details about limited time early purchase discounts, 15% savings for groups of 10 or more, and the Taste VIP membership program benefits including complimentary event tickets and discounts.
For complete details and to purchase tickets to the NYC Winter Wine & Food Festival, visit NewYorkWineEvents.com.
About New York Wine Events
New York Wine Events is committed to bringing together New York Metropolitan wine and food lovers, whether it's at one of our wine fests, while browsing other New York area food and drink events, or reading our in-depth articles online about the area food and drink scene. The company's goal is to provide a wine tasting experience that allows guests to sample as many diverse wines as possible while enjoying a festive atmosphere and the company of other wine lovers. Visit NewYorkWineEvents.com.