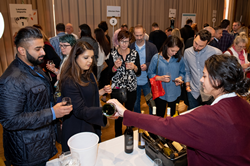 It's great to be back at the Altman Building to offer an upscale setting for our curated wine and culinary experience plus feature a special VIP lounge sating our guests' desire for an intriguing selection of rosé and sparkling wines.
NEW YORK (PRWEB) October 02, 2019
New York Wine Events will host its annual New York City Autumn Wine & Food Festival on Saturday, October 19th. After expanding the event last year with a move to the Altman Building, New York Wine Events returns to the landmark venue in the Chelsea section of Manhattan for its 7th edition of the popular fall festival.
The grand tasting offers a choice of two sessions: Afternoon: 2-5pm or Evening: 7-10pm along with a Premium Early Admission Ticket enabling guests to enter an hour prior to the start of the general sessions, plus a VIP level ticket which includes admission to the exclusive VIP Rosé & Bubbly Suite as well as early access.
Recently named by Wine Enthusiast Magazine in a nationwide review as one of the "12 wine festivals you should check out this fall," the October tasting event will feature an expansive selection of over 100 wines and a variety of other beverages, along with light fare including hors d'oeuvres, cheese, bread, cracker selections, and numerous artisan food and drink tables sampling chocolates, charcuterie, tapenades, baked goods, olive oils, spices, ice cream, juices, infused waters, sauces, dips, salsas, and more. Guests can also take home their complimentary custom tasting glass as a souvenir.
Tasting tables located throughout the main floor of the venue will feature diverse selections perfect for autumn and the upcoming holiday season including fruit-forward and full-bodied reds, oaky, buttery, and dry white wines as well as some sweet and sparkling selections. Varietals from old, new and emerging wine regions will be showcased including Brazil, France, Israel, Italy, New Zealand, Portugal, Slovenia, South Africa, South America, California, New York, and more.
A limited number of VIP Tickets are available which include early entry to the main tasting and admission to the exclusive VIP Rosé & Bubbly Suite.
The private lounge will offer 20 rosé and sparkling selections plus buffets featuring artisanal cheeses, fruit, crackers, and dips plus a premium array of passed hors d'oeuvres. Selections from All-Wise Meadery, Brotherhood -- America's Oldest Winery, Hokkaido Brewing, LangeTwins Family Winery & Vineyard, Papi Wines, Pelter Winery, Provence Rosé Group, Vegan Wines, and select Long Island vineyards including RGNY and Sherwood House will be showcased in the exclusive tasting suite. Featured artisanal foods include special offerings from Feel Good Chocolates, Jenine's Plant-based Dairy, and John Wm. Macy's Cheesesticks.
"It's great to be back at the Altman Building to offer an upscale setting for our curated wine and culinary experience plus feature a special VIP lounge sating our guests' desire for an intriguing selection of rosé and sparkling wines," notes Sam Kimball, founder of New York Wine Events.
Participating sponsors include: Citi, Jaguar Land Rover, 90+ Cellars, Amour Genève, Angry Orchard, Beacon Meadery, Blossom Water, Brew Dr. Kombucha, Brooklyn Granola, BRWD, Champagne Cuillier, Champagne De Sloovere-Pienne, DJ Cat's Snack Remix, Dr. Konstantin Frank Winery, Drunken Fruit, Essentia Water, Ferreira Carpenter Winery, For the Love of Toffee, Fragrances of Wine, Getaround, Israeli Wine Direct, Gladiator Wine Distribution, Green Mountain Energy, HelloFresh, KeVita, LangeTwins Family Winery & Vineyards, Laureate Imports & Marketing Company, LELO Fine Foods, Les Trois Petits Cochons, The Long Drink, Luscious Little Dessert Co., MumsKitchens NYC, My/Mo Mochi Ice Cream, Nicolosi Fine Foods, Olde York Farm Distillery & Cooperage, Organic Olive Juice Co., Pallini Limoncello, Papi Wines, Perfect Blends, Sail to Trail WineWorks, Salsa di Parma, Springbrook Hollow Farm Distillery, Table 87, Taconic Distillery, Topo Chico Sparkling Water, Truly Hard Seltzer, Twizzles Tasty Treats, Vegan Wines, Victorianbourg Wine Estate, White Claw Hard Seltzer, and Wines of Brasil. Juno is the Official Transportation Partner of the NYC Autumn Wine & Food Festival and will offer a special discount code for guests traveling to and from the event.
Select artisanal food companies sampling their offerings at the event will feature full size items on hand for guests to purchase and enjoy at home and NY State Farm wineries will be selling wines by the bottle so guests can enjoy them at home and for holiday gift-giving.
Tickets are on sale now, ranging from $85 to $165, depending upon session, ticket level, and time of purchase. Check the web site for details about limited time early purchase discounts, 15% savings for groups of 10 or more, and New York Wine Events' Taste VIP program membership benefits including complimentary event tickets and discounts. Advance purchase is highly recommended as New York Wine Event's popular tastings have experienced sold out crowds for over a decade, and the autumn event is expected to do the same.
For complete details or to purchase tickets to the 2019 NYC Autumn Wine & Food Festival, visit NewYorkWineEvents.com.
About New York Wine Events
New York Wine Events is committed to bringing together New York Metropolitan wine and food lovers, whether it's at one of our wine fests, on a day trip to Long Island or Hudson Valley wine country, while browsing other New York area food and drink events, or reading our in-depth articles online about the area food and drink scene. The company's goal is to provide a wine tasting experience that allows guests to sample as many diverse wines as possible while enjoying a festive atmosphere and the company of other wine lovers. Visit NewYorkWineEvents.com.
###