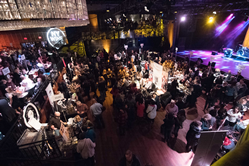 ...a real New York happening with hundreds of wines, foods, and beverages from the city as well as around the world along, topped off by an exciting musical performance.
NEW YORK (PRWEB) February 13, 2019
New York Wine Events is pleased to announce the New York City Winter Wine Festival presented by Citi featuring hundreds of wines from around the globe will return to Times Square at the PlayStation Theater on Saturday, March 9, 2019. General admission sessions for the 10th annual event will be held at 3:00-6:00pm and 8:00-11:00pm. Special Premium Early Access and VIP ticket levels offer guests the option of walking the extensive food and wine event one hour earlier, commencing at 2:00pm for the afternoon session and 7:00pm for the evening. During each tasting session, guests will enjoy live contemporary jazz performances by internationally acclaimed jazz pianist Alex Bugnon and take home their custom wine tasting glass post-event.
The NYC winter tasting event will feature an extensive curated array of wines, craft spirits and other beverages, diverse light fare including hors d'oeuvres and cheese and cracker selections, plus numerous artisan food and beverage tables sampling oils, tapenades, and dips, charcuterie, baked goods, chocolates, soups, kombucha, and other specialty items. Wine tasting tables located throughout the venue will include an eclectic mix of fruity, dry, and round red wines, crisp, buttery, and smooth white wines, and some refreshing sparkling wines. Guests will experience vintages from Old World, new, and emerging wine regions including France, Italy, Spain, South America, South Africa, New Zealand, Portugal, California, and more. Several New York State wineries will also be showcased, with selections also on sale by the bottle for guests to enjoy at home.
A VIP Ticket option (limited to 50 people per session) includes early access to the main tasting plus admission to a private VIP wine tasting suite. The VIP experience features 12 high-end wines, a bonus California wine table featuring exclusive Napa Valley selections, plus premium passed hors d'oeuvres including Filet Mignon with Yukon Gold Potato & Béarnaise Sauce, Miniature Maine Lobster & Shrimp Rolls on Brioche, Tuna Tartar with Pickled Cucumber & Wasabi Caviar, Pate de Mousse de Foie Gras with Cranberry Compote on Ficelle, and White Truffle and Pecorino Arancini. Exceptional wines from major regions such as Champagne, Bordeaux, Burgundy, Argentina, Tuscany, and California will be poured in the suite for VIP ticketholders only.
"The expansive PlayStation Theater allows us to showcase a large number of wine, artisan food, and lifestyle companies, and features a superb stage for top contemporary jazz artists whose performances have become a highlight of this annual festival," notes Sam Kimball, founder of New York Wine Events. "The lively Times Square backdrop is perfect for our largest event of the year, making it a real New York happening with hundreds of wines, foods, and beverages from the city as well as around the world along, topped off by an exciting musical performance."
Musical guest Alex Bugnon is an internationally acclaimed jazz/R&B keyboardist and 2-time Soul Train Music Award winner. A renowned musician/composer/bandleader, Bugnon has been a prolific, energetic force on the contemporary music scene for more than two decades. The Harlem resident was born and raised in the Montreux, Switzerland, site of the world famous Jazz Festival, which undoubtedly played a role in his decision to pursue a musical career, as did his early friendship with Herbie Hancock and the influence of his uncle, the legendary Donald Byrd.
Sponsors and artisanal food purveyors to date include 90+ Cellars, Alexian Pate, Amour Genéve, Drunken Fruit, Enlightenment Wines, Ferreira Carpenter Winery, For the Love of Toffee, Fragrances of Wine, Getaround, Green Mountain Energy, Harlem Chocolate Factory, HelloFresh, Huge Bear Wines, Jamesport Vineyards, John Wm. Macy's Cheesesticks, Ketel One, KeVita, Knightsbridge Winery, Martha Clara Vineyards, Natalie's Orchid Island Juice Company, Old Yorke Farm Distillery & Cooperage, Organic Olive Juice Co., Pazdar Winery, Pellegrini Vineyards, Pindar Vineyards, Rooftop Reds, Salsa Di Parma, Sannino Vineyard, Sherwood House Vineyards, Soup Pop, Sovereign Vines, Sparkling Ice, Springbrook Hollow Farm Distillery, Taconic Distillery, T-mobile, Toma Bloody Mary - Craft Cocktail Mixer, Topo Chico Sparkling Water, Victorianbourg Wine Estate, Wine Dreams International, Wheeler Farms Winery, Whole Foods, Wines of Brasil, and Yeh Chips. More sponsors, wineries, and artisanal food companies will be added in the weeks ahead.
For over a decade, New York Wine Events' popular New York metro area wine festivals have drawn sold out crowds and the 2019 New York City Winter Festival event is slated to do the same. Participating artisanal food companies and New York State Farm Wineries and Distilleries will feature items for guests to purchase and enjoy at home. Select lifestyle vendors selling wine-centric products and apparel will be exhibiting and selling as well.
Tickets are on sale now, priced from $55 to $275, depending upon ticket level, session, and time of purchase. Advance purchase for the March 9th Times Square wine event is highly recommended. Check the New York Wine Events web site for details about limited time early purchase discounts, 15% savings for groups of 10 or more, and the Taste VIP membership program benefits including complimentary event tickets and discounts.
For complete details and to purchase tickets to the NYC Winter Wine Festival, visit NewYorkWineEvents.com.
About New York Wine Events
New York Wine Events is committed to bringing together New York Metropolitan wine and food lovers, whether it's at one of our wine fests, while browsing other New York area food and drink events, or reading our in-depth articles online about the area food and drink scene. The company's goal is to provide a wine tasting experience that allows guests to sample as many diverse wines as possible while enjoying a festive atmosphere and the company of other wine lovers. Visit NewYorkWineEvents.com.