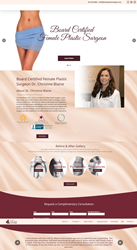 As a mother of three, I can relate to experiencing changes in the body after having children. I hope to provide information on mommy makeovers to help patients restore self-confidence by helping them look, feel and function at their very best, says Dr. Christine Blaine
HUNTINGTON, N.Y. (PRWEB) February 14, 2020
Blaine Plastic Surgery invites you to attend their Q&A educational session on mommy makeovers from 5:30 to-8:30 pm on Tuesday, February 25th. Join Dr. Blaine for a candid discussion about motherhood and how it can affect you both physically and emotionally. You'll find camaraderie among other women and learn that no matter your age or stage in life, there is a mommy makeover right for you. This special event will include wine, snacks, and exclusive pricing offers for attendees. To RSVP for the event, call their office at 631.470.2000 or visit info@blaineplasticsurgery.com.
Blaine Plastic Surgery is proud to offer surgical and non-surgical solutions for skin laxity, abdominal weakness, breast changes, cellulite, facial volume loss, skin changes and intimate health concerns. Christine Blaine, M.D., FACS is a Board Certified Plastic Surgeon specializing in a wide spectrum of cosmetic and reconstructive surgeries for the face, eyes, nose, breasts and body. A mommy makeover is a combination of cosmetic surgeries and typically includes procedures that treat the breasts and the tummy. These surgeries help address some of the common concerns that some women find after childbirth and breastfeeding. It's ideal for those who wish to return to their pre-pregnancy figure or for women who want to make a noticeable change to their silhouette.
"As a mother of three, I can relate to experiencing changes in the body after having children. I hope to provide information on mommy makeovers to help patients restore self-confidence by helping them look, feel and function at their very best," says Dr. Christine Blaine.
More about Dr. Christine Blaine:
Christine Blaine, M.D., FACS is a board-certified plastic surgeon, native New Yorker and mother of three, with New York offices located in Huntington, Staten Island and NYC. Dr. Blaine graduated from Albany Medical College in 2005 and has been in practice for 11 years. She is well known and respected in the field of plastic surgery, specializing in both cosmetic and reconstructive surgery. Dr. Blaine frequently participates in research and is a published author in the Annals of Plastic Surgery. She has presented her work at national meetings, such as the Northeast Society of Plastic Surgeons and is an active member of the American Society of Plastic Surgeons and the American Academy of Plastic Surgeons. Dr. Blaine's mission is to treat the individual patient as a whole, providing the highest level of comprehensive cosmetic, plastic and reconstructive surgical and non-surgical care.
To find out more about the three office locations and procedures offered at Blaine Plastic Surgery please call (631)-470-2000, or visit the website at http://www.blaineplasticsurgery.com.