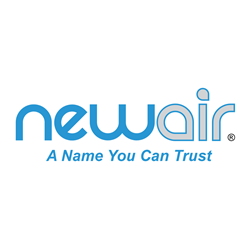 "Our growth has everything to do with the hardworking, dedicated people behind our products," says Luke Peters, CEO & Founder of NewAir Appliances, "we make it our job as a company to continue to encourage and invest in the personal development of all our employees."
CYPRESS, Calif. (PRWEB) February 17, 2020
NewAir Appliances has been awarded a Top Workplaces 2019 honor by The Orange County Register. The anonymous survey measures several aspects of workplace culture, including alignment, execution, and connection, just to name a few.
NewAir Appliances started as a small garage operation and has turned into a powerhouse compact appliance company over the course of 15+ years. The strong and steady advancement of NewAir Appliances is a direct reflection of the connected company culture it was awarded for.
"Our growth has everything to do with the hardworking, dedicated people behind our products," says Luke Peters, CEO & Founder of NewAir Appliances, "we make it our job as a company to continue to encourage and invest in the personal development of all our employees."
NewAir Appliances hosts quarterly mentorship programs, company lunches, and team bonding events. Even with its rank as a medium-sized operation, NewAir Appliances makes a concerted effort to maintain the family-owned feel it was founded on.
"It's been our intention from the very beginning to create a close and supportive culture," says Jennifer Danks, Director of Human Resources at NewAir Appliances, "from the first moment our team members walk through our doors, we want them to feel as if they are a part of a family."
NewAir Appliances ranked 50 out of the 140 recognized in Orange County as Top Workplaces for 2019. The award is based solely on feedback from employees, supporting the idea that a great culture is what drives productive and bottom-line at a company.
About NewAir
California-based NewAir Appliances is the leader in affordable compact home appliances and products including wine & beverage fridges, heating & cooling products, ice makers, cigar humidors and more. Launched in 2002 to meet the high demand for portable air conditioners, NewAir has grown from a startup in a 400-square-foot garage to an industry powerhouse with a 115,000-square-foot warehouse and distribution center in Orange County, California. Focusing on value, quality and exceptional customer service over the past 17 years, NewAir has become one of the most trusted names in the industry, with its wide range of products carried by the largest retailers in North America.
For more information, visit: http://www.newair.com