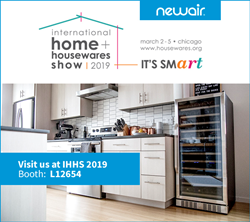 "We're thrilled to be introducing some industry-leading products at this year's IHHS," shares Stephenson, "And we invite everyone in attendance to stop by and see us at our booth and have some fun."
CYPRESS, Calif. (PRWEB) February 20, 2019
NewAir Appliances, a California-based manufacturer and distributor of compact home appliances, has announced it will be introducing several new products at this year's International Home + Housewares Show (IHHS), March 2-5, 2019 in Chicago.
Included in the company's new product unveiling is an all-new Dual Zone Wine and Beverage Fridge that features an innovative SplitShelf™ configuration for optimized, separate storage of wine and canned beverages. In addition, NewAir's New Product Showcase will include a unique, custom designed "Beers of the World" Fridge".
NewAir's booth, located at the Lakeside Building at L12654, will also highlight the company's branded partnerships with Frigidaire® evaporative coolers and misting fans, Magic Chef® air fryers and water dispensers, and custom designed Pepsi® fridges.
Attendees will have an opportunity to see a variety of other NewAir products as well, from innovative heating and cooling appliances to the latest in portable ice makers.
According to Andrew Stephenson, Director of Product Marketing, this year's show is an ideal opportunity for NewAir to showcase its exciting new products. "We're thrilled to be introducing some industry-leading products at this year's IHHS," shares Stephenson, "And we invite everyone in attendance to stop by and see us at our booth and have some fun."
Along with its new product introductions, the company will be staging a free drawing for a new custom beer fridge on the final day of the show.
About NewAir Appliances
California-based NewAir Appliances is a manufacturer and distributor of compact home appliances, including everything from beverage coolers to portable laundry solutions. Their wide range of products are carried by the largest retailers in North America, and NewAir is dedicated to exceptional customer service at their responsive in-house call center. NewAir's focus on value and quality over the past 15 years has made them one of the most trusted names in home appliances. See all of their products at http://www.newair.com.
Follow NewAir Appliances on Facebook
Tweet us @NewAirUSA
Follow us on Instagram @NewAirUSA
Watch us on YouTube @NewAirUSA
Media Contact:
Andrew Stephenson, Director of Product Marketing
Email: press(at)newair.com
Tel: (657) 257-4326
Website: http://www.newair.com
IHA is the 81-year-old voice of the housewares industry, which accounted for (US)$364.2 billion at retail worldwide in 2017 ($91.6 billion at retail in the U.S.). The not-for-profit, full-service association sponsors the world's premier exposition of products for the home, the International Home + Housewares Show, and offers its 1,700 member companies a wide range of services, including industry and government advocacy, export assistance, State-of-the-Industry reports, point-of-sale and consumer panel data through Housewares MarketWatch, executive management peer groups, group buying discounts on business solutions services and direct-to-consumer engagement through TheInspiredHome.com.