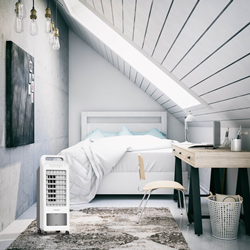 "Not only will these workers spend their full 9-5 office hours at home, but most of their 24-hour days will be experienced indoors, which is why we want to make sure they are supplied with products that make them more comfortable, safe, and productive," says Ecommerce Manager Scott Eberstein
CYPRESS, Calif. (PRWEB) April 02, 2020
NewAir Appliances is helping cooped up office workers stay productive with products designed to add convenience and comfortability to at-home office spaces. They are providing discounts on bundled products to remote workers nationwide.
"As we enter a new seasonal category, we've shifted focus to mainly supply products that help remote workers adjust comfortably to their new work conditions," says Ecommerce Manager Scott Eberstein, "Not only will these workers spend their full 9-5 office hours at home, but most of their 24-hour days will be experienced indoors, which is why we want to make sure they are supplied with products that make them more comfortable, safe, and productive."
Over the past month, NewAir Appliances has experienced an increase in orders for evaporative coolers, beverage refrigerators, space heaters and other compact, plug-and-play appliances that make working from home more bearable. The company is offering special pricing on these high-demand products to give more customers access to the work items they need.
NewAir Appliances will continue to offer bundles and packages for workers until they can return to normal working conditions after the COVID-19 crisis.