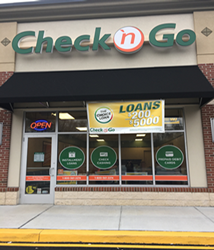 "We are proud to be a part of the Newark community and want to show our customers how much we appreciate them," said Newark Area Manager, Miriam Horne. "We look forward to meeting our neighbors, and invite them to drop in and help us mark this special occasion."
NEWARK, Del. (PRWEB) April 09, 2019
Check `n Go located at 2822 Pulaski Highway in Newark, Delaware will host a free customer appreciation event from 10 a.m. to 1 p.m. on Friday, April 12. This free event is open to the public, and features free refreshments as well as a raffle of assorted gift cards. Check `n Go is hosting this celebration to mark the first anniversary of its two Newark locations, including the store at 27 Chestnut Hill Plaza.
"We're excited to celebrate one year of business for both of our local stores," said Newark Area Manager, Miriam Horne. "We are proud to be a part of the Newark community and want to show our customers how much we appreciate them! We look forward to meeting our neighbors, and invite them to drop in and help us mark this special occasion."
Both Newark Check `n Go locations are part of the new second generation design model. This model features a larger reception area, a bright and inviting color palette, and comfortable seating. The updated design also includes large windows to allow maximum natural light and ambiance.
For more information, visit the Check `n Go company website at http://www.checkngo.com.