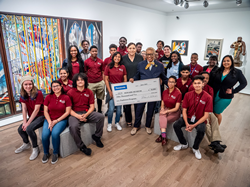 We are grateful for the support of Panasonic whose mission to advance equity in education aligns with our core values.
NEWARK, N.J. (PRWEB) July 11, 2019
The Newark Museum has received a $50,000 contribution from Panasonic Corporation of North America in support of the Explorers Program, a college, career and life-readiness initiative, helping Newark-area high school students thrive through access to art and culture.
The Explorers program, now in its 23rd year, provides an after-school STEAM (science, technology, engineering, arts, and mathematics) curriculum and support system to a diverse group of youth. For the last 10 years, 100 percent of Explorers have graduated high school and gone on to attend four-year colleges or universities. In 2018, five seniors out of a class of 13 were offered full scholarships. In 2017, the Explorers program was selected as a National Arts and Humanities Youth Program (NAHYP) award winner. The NAHYP Award is presented to institutions that exemplify how arts and humanities programs outside of the regular school day enrich the lives of young people throughout the country by teaching new skills, nurturing creativity and building self-confidence.
"We are grateful for the support of Panasonic whose mission to advance equity in education aligns with our core values, ," said Linda C. Harrison, director and CEO of the Newark Museum. "Since its inception in 1995, the Explorers Program has provided students with a range of experiences that give them valuable skills to aid them in college and beyond."
Explorers rotate through internships in different areas of the Museum and lead student-designed projects including programming, soldering, and 3D printing, to gain real-life experience in a variety of jobs and fields of study. Most recently, students inspired by the Museum's collections, developed wearable technology to improve communications for teenagers.
"Panasonic is proud to align with the Newark Museum in our goal to increase access to STEAM education and help students thrive in a 21st century economy," said Alejandra Ceja, executive director, Panasonic Foundation and Office of Corporate Social Responsibility. "Their unique program offers a road map for long-term success, both academically and professionally."
For more information about the Museum and the Explorers, please visit http://www.newarkmuseum.org. With Panasonic's support, see how their wearable art pieces come to life with the infusion of technology: Newark Students Create Wearable Tech Powered By Art & Fashion.
Founded in 1909, the Newark Museum is the largest art and education institution in New Jersey and one of the most influential museums in the United States. Its renowned global art collections, supported by significant holdings of science, technology and natural history, rank 12th among North America's art museums. The Museum is dedicated to artistic excellence, education and community engagement with an overarching commitment to broadening and diversifying arts participation. As it has for over a century, the Museum responds to the evolving needs and interests of the diverse audiences it serves by providing exhibitions, programming and resources designed to improve and enrich people's lives.
The Museum also encompasses the Victoria Hall of Science, the Alice and Leonard Dreyfuss Planetarium, the MakerSPACE, the Billy Johnson Auditorium, the Alice Ransom Dreyfuss Memorial Garden, an authentic Schoolhouse from 1784, and the Newark Fire Museum.
The Newark Museum, a not-for-profit museum of art and science, receives operating support from the City of Newark, the State of New Jersey, the New Jersey State Council on the Arts/Department of State (a partner agency of the National Endowment for the Arts), the New Jersey Cultural Trust, the Prudential Foundation, the Geraldine R. Dodge Foundation, the Victoria Foundation, the PSEG Foundation, the Estate of Phyllis and Sanford Bolton, the Wallace Foundation, and other corporations, foundations, and individuals. Funds for acquisitions and activities other than operations are provided by members and other contributors.
About Panasonic Corporation of North America
Newark, NJ-based Panasonic Corporation of North America is committed to creating a better life and a better world by enabling its business-to-business customers through innovations in Sustainable Energy, Immersive Entertainment, Integrated Supply Chains and Mobility Solutions. The company is the principal North American subsidiary of Osaka, Japan-based Panasonic Corporation. One of Interbrand's Top 100 Best Global Brands of 2018, Panasonic is a leading technology partner and integrator to businesses, government agencies and consumers across the region. Learn more about Panasonic's ideas and innovations at http://www.na.panasonic.com/us.