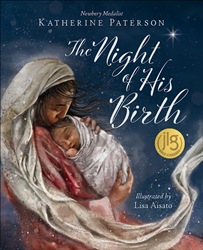 Kirkus Reviews recently gave The Night of His Birth a starred review, saying it is, "a lyrical, moving account of Jesus' birth, from his mother's perspective. . . . Divine."
LOUISVILLE, Ky. (PRWEB) September 17, 2019
Katherine Paterson's latest picture book, The Night of His Birth, is now available for purchase wherever books are sold.
Featuring poetic text that captures the intimacy shared between a mother and her newborn, this gift-appropriate picture book describes the night of Jesus' birth from his mother Mary's perspective. Paterson's words are complimented by striking images created by Lisa Aisato of Mary, Jesus, and other biblical characters.
Kirkus Reviews recently gave The Night of His Birth a starred review, saying it is, "a lyrical, moving account of Jesus' birth, from his mother's perspective. . . . Divine." The book is also a Junior Library Guild Selection.
About Katherine Paterson
Katherine Paterson is the internationally acclaimed author of more than thirty-five books for children and young adults. She has twice won the Newbery Medal and the National Book Award, as well as the Hans Christian Andersen Award and the Astrid Lindgren Memorial Award. The Library of Congress has named her a National Ambassador for Young People's Literature and a Living Legend. For more information, visit http://www.katherinepaterson.com.
About Lisa Aisato
Lisa Aisato is a Norwegian artist and children's book author whose distinctive work has been published in books and magazines around the world. For more information, visit http://www.lisaaisato.com.
About Flyaway Books
Flyaway Books is a new children's book program dedicated to creating books that will inspire the next generation to fly. Books featured in the program carry themes of diversity, inclusion, self-esteem, kindness, compassion, and care for our world. They are also intentionally multicultural in their artwork and characters. Visit http://www.flyawaybooks.com for more information.
###