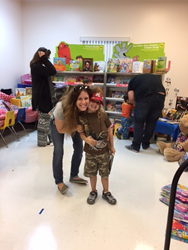 It's a great way to generate excitement about reading, create a fondness for books, an interest in quality reading time, and an opportunity to develop early literacy skills.
Lake Worth, FL (PRWEB) April 20, 2017
Newbridge Prep, a preschool owned by experienced educators where students actively participate in a holistic preparatory education program, recently hosted its Happy Camper Scholastic Book Fair. "Book fairs are rarely implemented in preschools, so this is something very special that we do at Newbridge," said Jackie Matzirakis, owner/founder of Newbridge Prep. "It's a great way to generate excitement about reading, create a fondness for books, an interest in quality reading time, and an opportunity to develop early literacy skills."
Prior to the fair, Newbridge Prep engages its students and their families by decorating the school with the theme of the book fair. "The teachers talk to the students about exploring new books," added Matzirakis. "We also engage families with eblasts, letters home, and we send home a craft activity that is later returned and displayed with our book fair decorations."
Furthermore, throughout the book fair week, parents are welcomed as guest readers, which the students enjoy, as it enhances their interest in story time. It is also an opportunity for the students to learn about new titles and characters and have new "reading adventures."
As in years past, the Newbridge Prep book fair included an exciting family night, where families came in and shopped for new books. "This night is a wonderful opportunity for the kids to get excited about reading, parents are able to chat with other parents, and many of our staff are on hand to guide parents on what books might be best for their children," noted Matzirakis. "It's a night that really builds excitement for the love of reading and gets the whole family (even older siblings) involved. It shows the children that books and reading are important to their families."
In fact, there are numerous studies showing that family involvement, specifically reading together, has many beneficial outcomes. "We want to give students the opportunity to explore new books and choose books that they are interested in," concluded Matzirakis. "At this young age, it is critical to develop a love of reading and literacy readiness."
Newbridge Prep families in 2017 are also teaching their little ones the importance of giving back by participating in Operation Book-Bear, a service started by siblings Nicolas and Annaleisa Matzirakis. While families fill their shelves with new books, they are also donating like-new books and gently used teddy bears to children of deployed servicemen and servicewomen through the efforts of Operation Book-Bear.
About Newbridge Prep
The Newbridge Prep philosophy is that all children can and will succeed, and it encourages parental involvement in the classroom and via numerous activities throughout the year. Newbridge faculty works diligently to create a positive environment that enhances children's self confidence and empowers them to succeed. Discounts are available to law enforcement, firefighters, military personnel and teachers. For more information, please call (561) 966-2644, or visit http://www.newbridgeprep.com.
About the NALA™
The NALA offers small and medium-sized businesses effective ways to reach customers through new media. As a single-agency source, the NALA helps businesses flourish in their local community. The NALA's mission is to promote a business' relevant and newsworthy events and achievements, both online and through traditional media. For media inquiries, please call 805.650.6121, ext. 361.