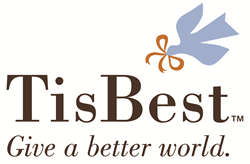 We manage a living list of nonprofit partners.
Seattle, Wash. (PRWEB) November 25, 2014
Award-winning charity gift card provider TisBest Philanthropy announced today the addition of six new charity partners to their online charity gift card program.
These six charities are included on a list of more than 340 local and national nonprofit organizations listed on the TisBest website. Recipients of TisBest Charity Gift Cards can use the money on their card to donate to any of the nonprofits that have partnered with TisBest.
"We manage a living list of nonprofit partners," says TisBest Executive Director Jon Siegel. "Each year we review our current charity partners to ensure all organizations still comply with our partnership requirements, and each year we review the list of charity partner nominations we receive from the community. New charities are selected following a rigorous evaluation process. We look forward to this process every year; it's always exciting when we add nonprofits to the TisBest Charity Gift Card program."
TisBest Philanthropy's six new charity partners are:

Dancing Classrooms
Friends of Youth
Global Partners in Care
Humane Education Advocates Reaching Teachers (HEART)
National Mentoring Partnership
Rescue:Freedom International
TisBest operates a donation gifts program using TisBest Charity Gift Cards, which allow the gift recipient to donate to a favorite charity or cause using the funds on their card. These gift cards work like conventional gift cards, but instead of using the card at a store to purchase material goods the recipient directs the money on the card to a charitable organization through the TisBest website. The full list of TisBest charity partners can be found under the Charities tab at http://www.TisBest.org.
About TisBest Philanthropy:
TisBest Philanthropy is a 501(c)(3) nonprofit organization dedicated to fostering the growth of non-material gift-giving. TisBest created charity gift cards in 2007. With a TisBest Charity Gift Card, you make the donation and your recipient decides how to spend the donation, choosing from TisBest's 300+ charity partners.TisBest cards are customizable at no additional cost. Learn more at http://www.tisbest.org.