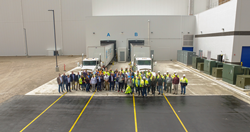 "This is NewCold's second U.S. operation and one of the largest cold-storage facilities of its kind," said NewCold U.S. Director Jonas Swarttouw.
BURLEY, Idaho (PRWEB) June 06, 2019
NewCold, the Netherlands-based specialist in automated cold storage, today announced the opening of its $90 million, 180,000-square-foot facility in Burley, Idaho. It is one of the largest cold storage warehouses in the nation and will employ 100.
NewCold's Burley facility, which took 25,000 tons of steel to construct, is using advanced conveyance and stacking technology to load and store frozen food pallets. French fry maker McCain Foods, which recently underwent a $200 million expansion in Burley, is NewCold's largest Idaho customer.
"This is NewCold's second U.S. operation and one of the largest cold-storage facilities of its kind," said NewCold U.S. Director Jonas Swarttouw. "Due to its concentration of food processing companies, strong labor force, and good supplier and government partnerships, NewCold chose Idaho for one of the most innovative and efficient frozen-food centers in the country."
The new warehouse stands at over 14 stories tall – with a cubic, vertical layout optimal for pallet storage. Its sleek, efficient design cuts down energy consumption by up to half the rate of traditional warehouses. In fact, the facility's high bay – not accessible by facility workers – is kept dark, slashing electricity usage.
"This is an amazing development for Burley and the state of Idaho," said Doug Manning, economic development director for Burley. "Not only does the subzero cold-storage facility bring jobs to Idaho, but it is paving the way for future logistics development here. We look forward to the exciting work NewCold brings to Burley, and the advancements it will continue to make."
The cutting-edge facility nears a short-line rail facility which will be used to ship approximately 15 percent of NewCold's stored foods. The remaining loads will be trucked to food-service clients or other warehouses.
"Bringing a global company to Burley shows just how rapid and expansive Southern Idaho's growth has been," said Connie Stopher, executive director, Southern Idaho Economic Development. "This recent foreign direct investment is a game-changer for the region and is a huge addition to our food distribution chain."
NewCold's Burley location will employ managers, planners, operators, maintenance workers, drivers and forklift operators – all of whom oversee an efficient inbound, storage, order fulfillment and outbound process. This begins with automatically loaded trailers at a production facility, which are carried to NewCold and automatically unloaded, scanned and stored with conveyor systems and cranes.
The warehouse stores foods at -5 degrees Fahrenheit, with oxygen levels lowered to 16.5 percent for fire prevention. NewCold's employees work from a low bay area to oversee the shipment process, and a pick floor, where orders are fulfilled, and additional services are provided.
NewCold currently has facilities in Australia, France, Germany, Poland, Tacoma, Wash., and the U.K.
About NewCold
NewCold is an integrated service provider for cold chain logistics based in the Netherlands. NewCold operates a network of large-scale automated cold stores and refrigerated transport serving frozen food producers, employing 750 on three continents. NewCold is expanding its operations globally, building on decades of know-how in developing and operating advanced cold-chain logistics solutions. http://www.newcold.com.
About Idaho
Home to expanding companies from France, Germany, Ireland, Japan, Australia and Canada, Idaho's growing sectors include agribusiness, plastics, science, research and advanced manufacturing. With almost 12 million acres of farmland and nearly 25,000 farms and ranches, Idaho's natural resources make it ideal for agriculture and food manufacturers. Dairy, the state's largest agricultural sector, is also rapidly expanding with the state producing an average of 40 million pounds of milk per day. Visit http://www.commerce.idaho.gov.
About Southern Idaho Economic Development
Southern Idaho Economic Development is a joint venture of public and private sectors throughout the Magic Valley, formed to help diversify and strengthen the local economy by retaining and attracting business to the Southern Idaho region. Southern Idaho Economic Development works closely with communities throughout the region to promote economic development through expansion of existing business and to implement a focused consistent program to attract new businesses and talent. For more information about the Southern Idaho region, please visit southernidaho.org. Listen to our new "Secrets Out Idaho" blog here: https://www.southernidaho.org/blog.