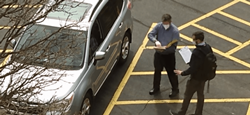 Stephen Newland, a partner, explained, "Many clients want to make sure they have a proper estate plan right now, but they are understandably concerned about needing to go to a lawyer's office to complete this process, and they do not want anyone outside of their family to come into their homes. "
LIBERTYVILLE, Ill. (PRWEB) May 18, 2020
Due to the health concerns that are affecting everyone in the United States, it is more important than ever for people to have a proper estate plan in place. This may include a will, living trust, power of attorney for property, and power of attorney for health care.
Stephen Newland, a partner at Newland & Newland, LLP, explained, "Many clients want to make sure they have a proper estate plan right now, but they are understandably concerned about needing to go to a lawyer's office to complete this process, and they do not want anyone outside of their family to come into their homes. We listened to our clients and came up with a process that they feel very comfortable with."
Curbside signings may sound like picking up items from a fast-food restaurant, but the services provided by Newland & Newland, LLP are very different. Since setting up a proper estate plan is one of the most important things a person can do, the firm has created a procedure for working with clients remotely. Through virtual meetings with clients, the firm's attorneys can ensure that the proper estate plan documents are drafted, and these documents can then be executed through curbside signing.
During this process, a series of meetings thru Zoom, Skype, or FaceTime are set up to discuss the client's needs and concerns. Once drafted, all documents are carefully discussed in detail using screen and document sharing to ensure the client's needs are addressed satisfactorily.
Once the documents are fully explained to the client, and it is confirmed that all required information has been included, a curbside signing appointment will be set up. The client will park his or her car in a remote area of the parking lot of one of the Newland & Newland, LLP offices. Two members of the firm, who will wear masks and gloves, shall then witness and notarize the execution of the documents while the client remains in his or her car.
"Our clients are relieved that they can get their estate plan documents completed in a professional manner without putting their health at risk. The feedback we have gotten from clients has been tremendous," commented Katrine Fleishman, a lawyer at Newland & Newland, LLP.
Newland & Newland, LLP is an eight-lawyer law firm with offices throughout the Chicago area, including Libertyville and Arlington Heights. To learn more about our estate planning services and options for curbside signing, contact our office by calling 847-549-0000 or visit our website: https://www.newlandattorneys.com/