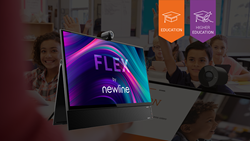 ALLEN, Texas (PRWEB) December 17, 2020
Newline Interactive, a leading provider of quality interactive touch displays and collaboration solutions, recently announced the release of its first desktop collaboration device, Newline Flex. The 27" desktop monitor is perfect for the current need for more interactivity in the physical and virtual classroom.
The Newline Flex is a versatile all-in-one touch monitor designed for desktop collaboration. Phones, tablets, and many other smart devices are intuitively touch and collaborative, it is time for the desktop to join the party. The desktop appliance will eliminate desk clutter from cables and peripheral devices and streamline interactive collaboration in the classroom and school office settings.
Newline has introduced the Flex to complement the interactive classroom boards with a desktop size monitor. This device will allow teachers to interact with students in-class and virtually from their desks. Other teaching benefits include screen casting, live lesson annotating, and using the high-quality camera with their own laptop devices.
"If your organization meets, Newline Flex is for you. That may seem very simple, but it is as simple as that. Flex is for everyone and can help with productivity and collaboration for everyone," said Chris Bradford, President of Newline Interactive.
The 27" desktop monitor comes stacked with capacitive touch, full device touchback capability with palm rejection, USB Type-C connectivity with power, and an active stylus. Administrators and faculty alike will be able to use Newline Flex in conjunction with their current devices via USB Type-C, instantly adding interactive functionality to their meetings and instruction—even when away from their large format interactive panel. As with all Newline products, the Newline Flex will be non-proprietary, working with all UC software clients and it is easily upgradeable.
Today's teachers are challenged with the task of simultaneously instructing and engaging students in various environments. Using a large interactive board is great for hands-on learning but can be limited when in a hybrid environment.
Newline Flex is expected to be in stock and ready to ship early 2021. Find out more information and to place an order for the Newline Flex at newline-interactive.com/usa/products/flex-desktop-collaboration.
About Newline
Headquartered in Allen, Texas, Newline Interactive is a leading supplier of interactive touch screens and innovative software that increases productivity and enables collaboration.  Newline Interactive develops products that help organizations in a wide range of vertical markets including financial services, education, healthcare, law enforcement, manufacturing, municipalities, and legal services.