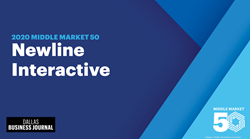 Our significant growth rate is a true testament to our world-class team.
PLANO, Texas (PRWEB) September 14, 2020
The Dallas Business Journal announced their rankings for the Middle Market 50 awards, an annual list of the fastest-growing private and public middle market companies in North Texas. Newline Interactive ranked 18th on the list in their first year.
Official placements on the list are determined by a revenue growth percentage over a three year period from 2017 to 2019. Eligible companies must make a minimum of $10 million and a maximum of $1 billion in revenue each year. Newline's three year growth percentage was 146%, pushing them well into the top half of ranking companies.
"We are always honored to be included among the best businesses in North Texas," said Chris Bradford, Founder and President of Newline Interactive. "Our significant growth rate is a true testament to our world-class team and our commitment to quality products, innovation, and providing best-in-class service and support."
Newline Interactive joined companies such as Crayon Software Experts and Independent Financial on this year's Middle Market 50 list, and was one of nine companies based in Plano.
# # #
About Newline
Headquartered in Plano, Texas, Newline Interactive is a leading supplier of interactive touch screens and innovative software that increases productivity and enables collaboration. Newline Interactive develops products that help organizations in a wide range of vertical markets including financial services, education, healthcare, law enforcement, manufacturing, municipalities, and legal services.