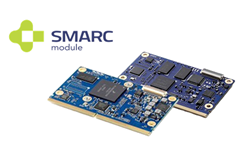 "The new SMARC AIoM proposition is excellently positioned, supporting long lifecycles."
SAN JOSE, Calif. (PRWEB) April 23, 2020
ADLINK Technology, a global leader in edge computing and one of the main contributors to the SMARC SGET committee, is pleased to announce the release of SMARC module Revision 2.1. The Standardization Group for Embedded Technologies, SGET, has just released the new, future-proof specification 2.1. It is fully backward compatible with the current specification 2.0, since the new features can either be multiplexed with existing signals or are additions that do not compromise pins on the edge connector already assigned in the 2.0 specifications.
The major feature updates include:

Support of up to four MIPI CSI ports to anticipate the needs of the AI and Robotics markets
Allowing multiplexing of SERDES signals over the 3rd and 4th PCIe x1 interfaces for additional Ethernet ports
Various minor additions over earlier reserved pins such as plus 2 GPIO pins and PCIe clock request signals
By allowing up to four native CSI MIPI camera inputs, the SGET 2.1 specification addresses the fast-growing trend of SOCs that come with integrated Neural Processing Units (NPUs) and multiple camera inputs for video-based AI solutions. The third and fourth camera port are realized through FFC feature connectors on the module itself, each supporting up to 4 MIPI CSI data lanes. Multi-camera support is needed for 360-degrees situational awareness for fast-growing segments such as robotic vehicles and autonomous driving, both of which draw heavily on AI. The specification update positions SMARC as the preferred standard for scalable, low power, silicon independent AIoM (AI on Module) solutions in the industrial embedded market.
To allow multiplexing SERDES signals over the 3rd and 4th PCIe x1 interfaces, there is additional support for two more Ethernet ports. This potentially allows a module to work with up to 4 GbE Ethernet ports. These ports can again support the same number of GigE-Vision cameras with a strong focus on AI vision applications.
"The AI in computer vision market, valued at around USD 2.5 billion in 2017, is expected to reach USD 25 billion by 2023, with a CAGR of 45% during the forecast period. Robotics and Machine Vision applications are to hold the biggest share of that significant increase. Most of these applications require low power envelopes because they are either battery powered or built into fan-less, air-tight enclosures, such as Smart Cameras. The new SMARC AIoM proposition is excellently positioned, supporting long lifecycles, extreme temperatures, high MTBF and other must-have industrial characteristics," commented Henri Parmentier, who manages the SMARC product line for ADLINK Technology.
Besides the above functional changes, the specification itself saw a major structural overhaul to make it more readable. Great attention was given to generate more precise and detailed information about every pin's power domain and PU/PD status. This effort will simplify carrier board designs and increase the level of compatibility and interoperability between module designs, both for different technologies (x86 and ARM) and different vendors.
SMARC clearly stands out as the only truly open, versatile, future proof, low power COM/AIoM standard in a highly fragmented market with a multitude of alternative form factors. Most of these "proprietary alternatives" are either silicon dependent, badly documented, undergoing continuous changes, or are going to be abandoned altogether. As proof of this trend, the SMARC module form factor products are actively being designed and produced by more than 20 leading embedded companies worldwide, with more companies joining in every year.
The complete SMARC module 2.1 specification document is available on the SGeT website (https://sget.org) for a free download.
About ADLINK
ADLINK Technology is a global leader in edge computing. Our mission is to affect positive change in society and industry by connecting people, places and things with AI. We do this through the delivery of leading edge, robust solutions addressing our customer's critical business and technology challenges. Our offerings include robust boards, modules and systems; real-time data acquisition solutions; and application enablement for Artificial Intelligence + Internet of Things (AIoT).
ADLINK serves customers in many vertical markets including: manufacturing, networking and communications, healthcare, military and aerospace, infotainment, retail, energy and transportation. We are a Premier Member of the Intel® Internet of Things Solutions Alliance, a partner of NVIDIA, and a contributor to many standards and interoperability initiatives, including Eclipse, OCP, OMG, PICMG, SGeT and ROS-I.
ADLINK's products are available in over 40 countries, either directly or through our worldwide network of value-adding distributors and systems integrators. ADLINK is ISO-9001, ISO-14001, ISO-13485 and TL9000 certified and is publicly traded on TAIEX (Stock Code: 6166).
For more information, please visit: http://www.adlinktech.com.
All trademarks are the property of their respective owners in the U.S. and other countries.